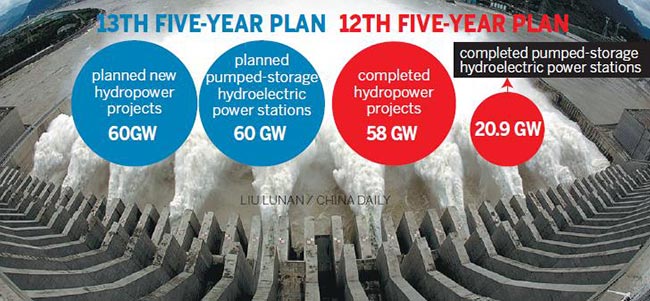 CTG says only a few hydropower projects remain untapped
China Three Gorges Corp is exploring wind, solar, nuclear and other forms of new energy beyond its core business, as potential new hydropower opportunities at home decline.
Bi Yaxiong, vice general manager of the company behind the world's largest hydropower plant on the Yangtze River, said it plans to build itself into a clean-energy conglomerate, with total installed capacity of 100 gigawatts by 2020.
Talking at the Clean Energy Expo China on Friday, he said the State-owned company will develop more huge dams and pumped-storage facilities for the next five years such as Wudongde and Baihetan, both downstream of Yangtze tributary, the Jinsha River, and will hold onto its position as the world's largest hydropower company for the next five years.
But once its ongoing construction is complete, it will spread its wings at home and abroad in search of new types of energy projects.
"We will keep our advantage in hydropower, but we are also looking into domestic offshore wind power, aiming to build an 'offshore Three Gorges Dam'," he said.
Experts said CTG is keen on diversifying its business with new hydropower projects in decline.
"Only some small and medium-sized hydropower projects remain untapped in the southwestern part of China, leaving less room for growth, while other new-energy sectors like wind, solar and nuclear are expanding at a fast pace," said Lin Boqiang, director of the China Center for Energy Economic Research at Xiamen University. "So it is clear that hydropower companies will shift to other businesses."
At the same time, the State-company plans to leverage domestic experience to grow the overseas share of business to 20 percent by 2020.
The energy giant is also building and operating hydropower projects in Pakistan, Brazil, Myanmar, Laos and Russia.
Lin contended that CTG's overseas projects have been launched out of strategic consideration, aiming for long-term profitability, instead of instant money and payback.
Three Gorges signed an agreement in March with China Nuclear Engineering Group Corp, the country's major nuclear power station builder, to work together on various new-energy projects.
CNEC is currently developing a high-temperature gas-cooled reactor, an indigenous nuclear technology, together with Tsinghua University.
Its flagship nuclear technology project at Shidao Bay in Shandong province is expected to start construction later this year.
The world's largest energy consumer, China has been slowing its approval rate of new hydropower projects after failing to meet its targets for new construction over the past five years.
The government plans to add another 60 gW of new hydropower capacity in the next five years, just half the previous goal of 120 gW, according to a draft of the country's 13th Five-Year Plan (2016-20). Just 58 gW of capacity was completed during the 12th Five-Year Plan (2010-15).