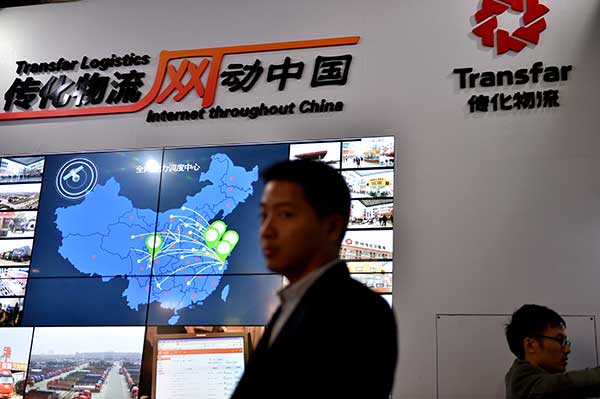 A man passed a stand of Transfar Group at the World Internet Conference held in Wuzhen, Zhejiang province on Nov 18, 2014. [Photo/VCG] 
Chinese private conglomerate Transfar Group will invest 100 billion yuan ($15.44 billion) to set up a national road network by 2022 to improve the country's logistics efficiency, its chairman told China Daily.
"In five to six years, we will build a national road network covering 170 cities to serve corporate clients and ensure that goods and materials are transported more smoothly," said Xu Guanjun, chairman of Transfar.
Established in 1986, Transfar is a Hangzhou-based company with diversified businesses covering chemicals, logistics, agriculture, technology and investment, and is ranked as a Top 500 Chinese Enterprise.
"We have signed contracts with more than 80 domestic cities to build road ports, and at least 30 cities' road ports will be put into operation in the end of 2016," said Xu.
Xu said besides infrastructure construction, it will build a smart logistics information system within the next five years.
Transfar is also setting up a logistics e-commerce platform, which will help corporate clients with freight demand to find logistics companies and vice versa.
Transfar has so far cultivated more than 10,000 logistics companies through its e-commerce platform.
Zhou Shengxue, vice-president of Transfar, said road logistics play an important role in Chinese logistics industry and the government has made efforts to build roads, but the efficiency of road logistics remains low.
The logistics costs of Chinese companies can be 30 percent to 40 percent of their production costs, while the proportion in developed countries can be only 10 percent to 15 percent, said Zhou.
According to the Ministry of Transport, China's road freight volume in 2015 was 35 billion metric tons, accounting for more than 75 percent of the total freight volume last year.
China is attaching great importance to road construction, with the total length of roads reaching 4.5 million kilometers at the end of 2015, according to a plan released by the Ministry of Transport.
"If we regard roads as hardware, Transfar's road network can serve as software to improve China's road logistics efficiency," said Zhou.
Transfar started its road network construction in 2003 in Hangzhou, and it now has six road ports in operation in six cities including Hangzhou, Suzhou and Chengdu. Its annual logistics fee has totaled more than 200 billion yuan and the value of goods and materials transported annually has reached about 5 trillion yuan.