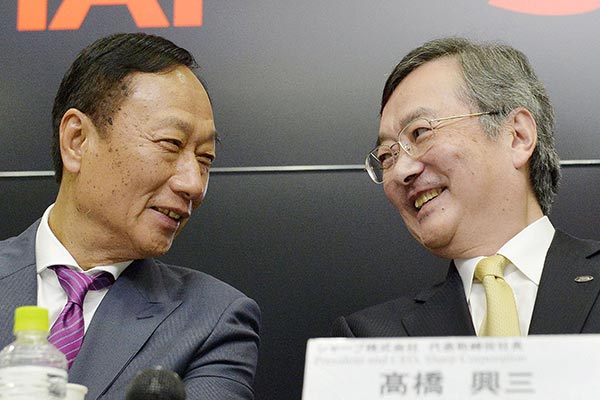 Terry Gou (left), founder and chairman of Foxconn Technology Group, exchanges a smile with Sharp Corp Chief Executive Kozo Takahashi during their joint news conference in Sakai, Japan, April 2, 2016.[Photo/Agencies]
Firm will invest $1.8b on next-generation OLED screens
Over the weekend, Foxconn Technology Group's Terry Gou finally had his moment of victory.
On Saturday, Gou and Sharp Corp President Kozo Takahashi gathered and shook hands in front of more than 300 reporters at the Osaka-based company's Sakai plant, after they finalized a rescue plan for Foxconn and affiliates to take control of Sharp for 389 billion yen ($3.5 billion).
It was a rare moment of peace for the hard-charging Gou, who spent four years chasing the Japanese electronics maker and overcame long odds and last-minute pitfalls to win.
Foxconn's chairman won't have long to celebrate: The turnaround promises to be even harder than the takeover. With a sprawl of businesses making appliances, solar equipment and flat panels for mobile devices, Sharp is seeing its earnings deteriorate every quarter, yet as part of the rescue deal, Gou pledged to keep the company intact, respect its independence and try to preserve jobs. He will have a hard time keeping those agreements if he wants to reverse Sharp's fortunes and boost profits by getting more business from customers like Apple Inc.
"The wording of the agreement seems to foreclose deep restructuring opportunities, giving Foxconn a very limited scope of what it can do to turn the company around," said Alberto Moel, technology analyst at Sanford C Bernstein & Co. "The company's incentive structure needs to be revamped, allowing fresh blood to rise to the top. That would require letting some people go."
Sharp has lost more than $10 billion over the past four years. The Japanese company built shiny factories to produce large-size flat panels, only to see demand explode for smaller-screened smartphones and tablets.
As LCD prices fell and the Japanese currency rose to post-World War II highs, Sharp faced competition on all sides, especially from Samsung Electronics Co and other display makers. It had no choice but to turn to banks for help and look for a buyer.
Gou, 65, is betting Foxconn will help Sharp with its manufacturing expertise. The parent of Hon Hai Precision Industry Co has made its fortune with efficient factories that make everything from iPhones and PlayStations, to GoPros and Kindles.
He will also help Sharp invest in new technology. The Japanese company plans to use Foxconn's money to pour 200 billion yen into the production of next-generation screens based on OLED, or organic light-emitting diode technology, which has long promised more vivid images and less battery drain. Another 60 billion yen will be spent to improve yield and increase production of existing LCD operations.
That could help Sharp gain ground against the competition. The market for small and medium-sized screens is dominated by Samsung Display, which had 24 percent of the market in the first nine months of 2015, according to market researcher IHS. Japan Display Inc and LG Display Co Ltd are the next biggest suppliers, followed by Sharp, at 9 percent.
"I have no illusions about the challenges facing this strategic investment," Gou said at the signing ceremony.
A key question is whether the deal will open a path to winning more of Apple's business. Foxconn is a key assembler of iPhones, iPads and other Apple products. Sharp, which was once a major supplier of iPhone displays, was dropped after it struggled to supply the volumes the US company needed.
Apple is interested in using more OLED technology in its gadgets, and as Sharp shifts its focus away from big displays to smaller screens, it may have another shot at becoming a key supplier, bolstered by Foxconn's manufacturing empire.