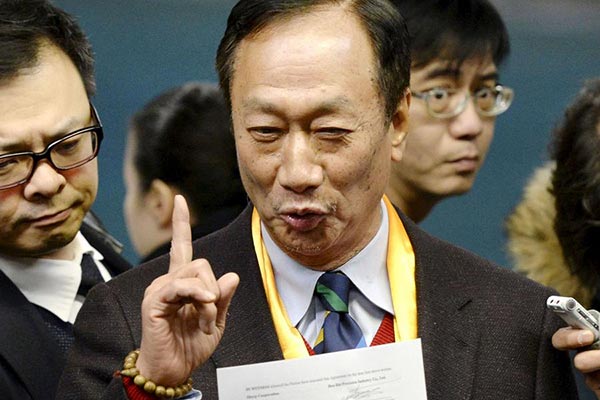 Terry Gou (C), founder and chairman of Foxconn Technology, speaks to reporters after a meeting with Sharp Corp executives including Chief Executive Kozo Takahashi (not in picture) at Sharp's headquarters in Osaka, western Japan, in this photo taken by Kyodo February 5, 2016. [Photo/Agencies]
Foxconn Technology Group Chairman Terry Gou has taken a step forward in the hotly contested battle for control of Japan's Sharp Corp, winning an agreement to become the preferred negotiating partner for a bailout of the struggling consumer electronics maker.
Gou spoke outside Sharp headquarters in Osaka on Friday after a meeting that stretched hours past its planned completion time.
He held up a paper with his own signature and that of Sharp Chief Executive Officer Kozo Takahashi, and said he expects to have a final agreement by the end of February.
"We are 90 percent there. The remaining 10 percent are legal matters and are not a big deal," he told reporters, speaking in Chinese with a Japanese translator.
"There will be no breakup of Sharp. I guarantee that the Sharp brand will go on."
Gou made the last-minute trip to Japan to step up pressure on the company to quickly accept his proposed bid, after Takahashi said on Thursday he planned to take another month to choose between Foxconn and the rival bidder, government-backed Innovation Network Corp of Japan.
Sharp's stock gained 10 percent to 176 yen ($1.5) at the close in Tokyo trading on Friday, after climbing 17 percent on Thursday.
Takahashi was questioned repeatedly about whether one bidder was favored over the other and refused to concede the point.
"Both parties are on the same footing," Takahashi said. A Sharp spokesman declined to comment after Gou's remarks on Friday.
Gou has pushed hard for a deal even as it looked unlikely he would win. Sharp had been inclined to take the bid from government-backed INCJ, which offered about 300 billion yen, industry sources said last month.
But then Gou raised his bid from 600 billion yen to about 660 billion yen and flew to Japan to make a personal appeal to Sharp's board, its banks and government officials.