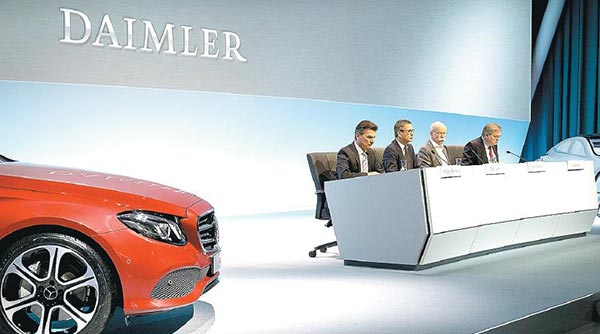 Daimler hosts its annual press conference on its 2015 financial report.[Photo provided to China Daily]
Stuttgart-based automaker Daimler AG grew profitably again in 2015, once more achieving record levels of unit sales and earnings before interest and taxes, with contributions from all divisions.
In particular, China was a bright spot for the company, with growth rate in retail figures significantly out pacing its major competition in the passenger car segment in 2015.
With attractive and highly competitive product ranges across all of the company's divisions, the group expects 2016 to be another strong year, with profits above-average thanks to the anticipated slight growth in global demand for automobiles.
Daimler hopes that this in turn will strengthen its position in major markets, and further increase its unit sales.
"2015 was a good year for Daimler," said Dieter Zetsche, chairman of the Board of Management of Daimler AG and head of Mercedes-Benz Cars, at opening of the 2016 Annual Press Conference. "We know from experience: Getting to the top is hard, but staying at the top is even harder. That's our ambition. Daimler belongs at the top on a sustained basis." In financial year 2015, the group achieved its best ever earnings before interest and taxes (EBIT), 13.5 billion euros ($15.1 billion), much higher than 10.8 billion euros in 2014. And its net profit of 8.9 billion euros was significantly higher than 7.3 billion earned the previous year. Earnings per share increased to 8.08 euros from 6.51 euros in 2014.
Daimler significantly increased its total unit sales in 2015. The number of around 2.9 million vehicles sold was 12 percent higher than in 2014. This growth was primarily driven by the Mercedes-Benz Cars division and to a lesser extent by Mercedes-Benz Vans. Daimler Trucks increased its unit sales to the highest level
since the year 2006. Driven by the growth in unit sales, Daimler group increased its total revenue by 15 percent to 149.5 billion euros in 2015.
"The development of earnings at the Daimler Group over recent years clearly shows that our strategy is working and that we are growing profitably," said Bodo Uebber, member of the Board of Management of Daimler AG responsible for finance and controlling and Daimler Financial Services."Compared with 2010, our earnings have actually almost doubled. And revenue has increased by more than 50 percent in the past five years." The net liquidity of the industrial business increased to 18.6 billion euros at the end of 2015 from 7.0 billion euros in 2014.
China engine for growth
China is increasingly important for the automaker, and 2015 again saw a strong performance by the company in this essential market.
"China is the most significant market for the automobile industry today, and it became Mercedes-Benz's biggest market for passenger cars worldwide in 2015, with record sales results achieved," said Hubertus Troska, member of the Board of Management of Daimler AG responsible for Greater China.
"Our results in 2015 and recent years show that our China strategy, with an integrated sales company, expanded new products, dealer network, local R&D and production, and financial services, has worked. Looking ahead, we are positive about the development of the Chinese automobile market in 2016 and further progress for Mercedes-Benz in China."
With help from its strong performance in China, the Mercedes-Benz Cars division, comprising the Mercedes-Benz brand with the sub-brands Mercedes-AMG, Mercedes-Maybach and Mercedes me and the smart brand, once again accelerated along its path of profitable growth in 2015.
Unit sales increased for the sixth consecutive year and passed the 2 million mark for the first time.
Market share increased in nearly all regions. Revenue rose by 14 percent to 83.8 billion euros. The division's EBIT for 2015 of 8.23 million euros was a substantial 41 percent higher than the prior-year figure of 5.85 million.
The new models have contributed to the higher unit sales of new vehicles. The most important drivers were the new C-Class, the compact cars and increased sales in the SUV segment.
"In 2015, we and our dealer partners placed 363,557 wonderful cars in the hands of customers in China, a 35 percent year-on-year increase," said Nicholas Speeks, president and CEO of Beijing Mercedes-Benz Sales Service Co Ltd, Mercedes-Benz's integrated sales company in China, which saw out the year with strong sales. December marked the 34th month of consecutive growth for BMBS since its establishment.
Product offensives play a key role in the company's growth in China. Today, the company's product range is more attractive in China than ever before.
In 2015, 15 new or upgraded models were launched locally, many of them developed especially for the Chinese market. In addition, almost two-thirds of the Mercedes-Benz cars sold in China are produced within the country, allowing the company to react flexibly to changes in the market.
Mercedes-Benz built up a solid momentum in China last year and is optimistic of keeping the pace this year, thanks to strong products and a strong sales network, according to the company.
"In 2016, 10 exciting new models will result in winning even more friends in China, who recognize the value our brand represents and place their trust in us," Speeks added.
Investing for future
Research and development expenditure increased from the already high level of 5.7 billion euros in 2014 to 6.6 billion euros in 2015.
In relation to revenue, R&D expenditure remained at the competitive level of 4.4 percent.
The focus was on new vehicle models, extremely fuel efficient and environmentally friendly drive systems, new safety technologies, autonomous driving and the digital connectivity of the products.
Expansion in 2016
"Everything indicates that 2016 will be another good year for Daimler," said Zetsche when summarizing the prospects for this year. "But success has to be worked for again and again." According to current estimates, global demand for cars in the year 2016 is likely to increase again by between 3 to 4 percent from the high level of 2015.
Growth rates in the traditional markets of the United States and Western Europe will probably be significantly lower than the substantial growth of recent years. Daimler hopes to sustain its momentum in China, which is currently ranked as Mercedes-Benz's largest single passenger car market.