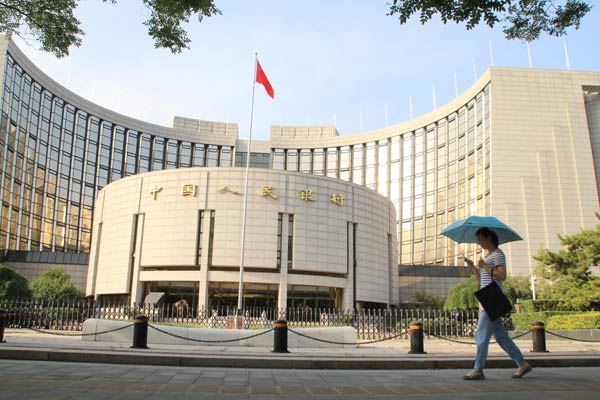 The headquarters of the People's Bank of China in Beijing. [Photo by Shi Yan/China Daily]
BEIJING - China's central bank injected another 110 billion yuan ($16.7 billion) into the financial system through open market operations on Saturday to ease liquidity strain ahead of the Spring Festival.
The People's Bank of China (PBOC) made the injection through reverse repurchase agreements (repo), in which central banks buy securities from banks with agreements to resell them in the future.
The move brought the total amount of funds pumped into the market through such operations this week to 620 billion yuan, following a net injection of 690 billion yuan last week.
Saturday's reverse repo will mature in 14 days and was priced to yield 2.4 percent, according to a PBOC statement.
The bank has conducted reverse repos for eight workdays in a row as a cash crunch is usually expected before the Spring Festival holiday week, which begins on Sunday this year.
The total scale of such operations since January is a record for pre-festival periods, according to financial data provider Wind Information.
The PBOC also used other tools, including standing lending facilities, medium-term lending facilities and pledged supplementary lending, to offer more than 1.5 trillion yuan for the market in January.
On Saturday, the Shanghai Interbank Offered Rate (Shibor), which measures the cost at which Chinese banks lend to one another, rose 29.7 basis points to 2.281 percent.