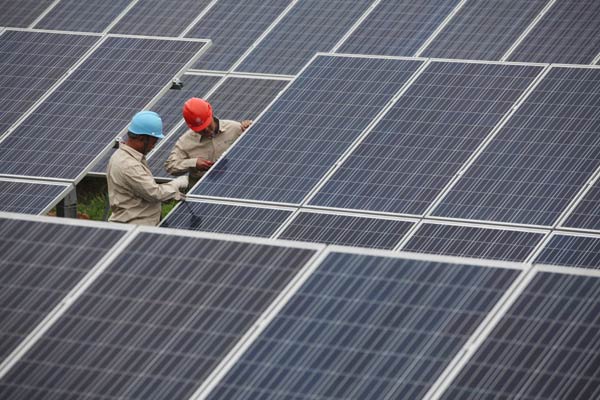 Workers check solar panels in Lianyungang, Jiangsu province. SI WEI/CHINA DAILY
BEIJING - China has built the world's largest solar photovoltaic (PV) energy capacity, official data showed on Friday.
The country's PV installation capacity amounted to 43.18 gigawatt by the end of last year, up over 50 percent from a year ago, the National Energy Administration (NEA) said. The increase accounted for a quarter of the world's added capacity in 2015.
Of the total installation capacity, 86 percent was from PV power plants and 14 percent was from distributed systems.
The surging PV installation can be attributed to government efforts to boost clean energy and adjust an energy mix dominated by coal. China is aiming to lift the proportion of non-fossil fuels in energy consumption to 20 percent by 2030 from the present 11 percent.
However, the NEA warned that some PV installations were abandoned in the country's northwestern parts, especially Gansu and Xinjiang.