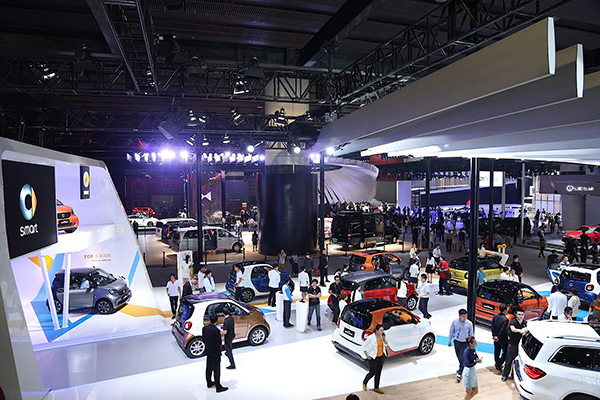 The all new smart forfour makes its Chinese premiere on the Mercedes-Benz platform at Guangzhou auto show. [Photo provided to China Daily]
China still a 'very healthy' market: Mercedes-Benz
Showing optimism in China's premium car market, Daimler AG is vowing to invest in domestic research and development activities after its affiliated brand, Mercedes-Benz, saw robust sales growth this year.
Hubertus Troska, a board member of the Stuttgart-based automaker, said on Friday in an interview that China is still a "very healthy" market, although it will not have double-digital growth every year.
"It's the biggest and best car market in the world. I tend to be more positive about the market and Mercedes-Benz's growth potential in China next year and in the future," Troska said.
Sales of Mercedes-Benz in China soared 34 percent yearon-year to more than 290,000 cars through the first 10 months of the year, enabling the brand to move closer to major rivals Audi and BMW in total sales. The year-on-year growth rate outpaced its two competitors, both of whom have lost steam this year.
Leading up to the Guangzhou auto show, which opened to the media on Friday, Mercedes-Benz had sold more than 300,000 units in China, he said, making the country Mercedes-Benz's biggest market in the world.
Troska said the brand's sales in China will be "significantly more than" 300,000 units this year.
He added that there will be further growth potential for premium cars in China as its middle class continues to grow in the years to come. Mercedes-Benz expects 65 percent of its sales by the end of the year in China to be of domestically produced vehicles, up from 55 percent last year, he said.
He stressed that Daimler will increase its R&D staff in China to better meet customer demand.
"We need to have a much stronger local R&D base that partly needs to contribute to our understanding of what features, what trends and what products Chinese customers really like. .. We should be the company that best understands what Chinese customers want and delight them with our products and services," Troska said.
Daimler opened an R&D center, which also includes a design studio, last November in Beijing with an investment of 865 million yuan ($135.6 million).
The company and China's BAIC Motor run a joint venture in Beijing that produces Mercedes-Benz C-Class sedans, E-Class sedans, GLA compact SUVs and the GLC midsized SUV.
Troska said success for Mercedes-Benz in China this year depends on the expansion of its dealership network and "more focus on the right domestic products".
"We have a very strong sense of joint work with our dealers. .. They have confidence in our products and our management team. They follow us and they invest. We also take care of their profitability," he said.
He said Mercedes-Benz will have 500 sales outlets in China by the end of this year, with more to come next year.
He explained that the company will focus more on training and improvement of its customer experience through its dealerships. Its GLC SUV was launched last week on the eve of the ongoing Guangzhou auto show.