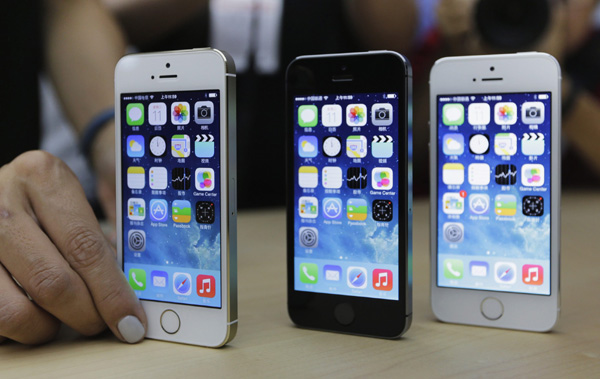 A staff member sets up the new iPhone 5Ss for a display picture at Apple Inc's announcement event in Beijing in this September 11, 2013 file photo. [Photo/Agencies]
Apple-certified used iPhones have gone on sale in China with price tags less than half that of brand-new products.
Selling at 2,099 yuan ($338), the restored iPhone 5S is more than 2,300 yuan cheaper than the official retail price. The refurbished iPhone 4S, sales of which Apple has stopped in China, is 899 yuan.
It is unclear when Foxconn will start delivering the products. The handsets were "out of stock" as of Tuesday afternoon, according to the e-commerce site. The company had said devices would be ready for retail by mid-April.
Apple announced its "reuse and recycling program" earlier this month. It is the first time the California-based giant has launched a trade-in project in its largest market outside the United States.
Offering iPhones with lower price tags gives Apple an additional measure to counter local vendors who introduce high-performance handsets at a fraction of the price of iPhones.
Xiaomi Corp, LeTV Holdings Co Ltd and a number of China-based manufactures are trying to weaken Apple by joining the above-3,000-yuan market.
Apple is the second-largest smartphone maker in China by shipment as of the first quarter. Its 19.9 percent market share trails South Korean maker Samsung Electronics Co. which has about a third in market share, according to research firm TrendForce.