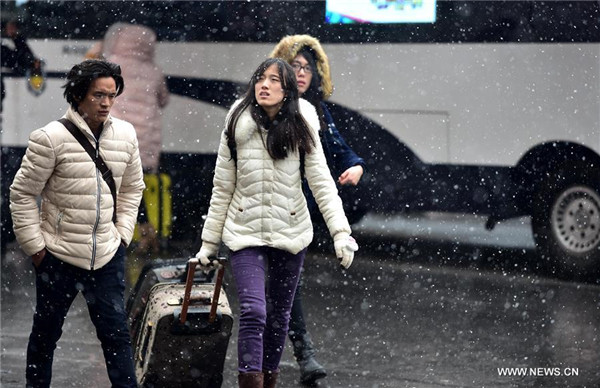 Passengers carrying luggages walk in snow outside a railway station in Hefei, capital of East China's Anhui province, Jan 31, 2016. Railway transportation witnessed a travel peak as the Spring Festival draws near. [Photo/Xinhua]
BEIJING - More than half of China's young people have plans to travel during the coming Spring Festival holiday, with many eyeing overseas trips, a survey showed Friday.
According to the survey conducted by the China Youth Daily, 51.2 percent of the 2,004 respondents said they would go out during the week-long holiday starting Feb 7, the eve of Lunar New Year's day, while 26.9 percent of them would prefer staying home. Others have not decided yet.
Among the expected travelers, a little more than 40 percent choose to travel outside the Chinese mainland, with Singapore, Malaysia and Thailand as the most popular destinations.
The travelers believe going out during the festival is a good opportunity to relax, while those defending their trips home argue that it violates the traditional value of family reunion.
Leading online travel service provider Ctrip predicted that a record 6 million Chinese would travel overseas during the 2016 Spring Festival holiday.
China had 120 million outbound travelers in 2015. It has remained one of the world's top traveler source markets with a double digit growth in expenditure since 2014, the World Tourism Organization said last month in its annual report.
Most of the people surveyed are aged between 26 and 46, according to the newspaper.