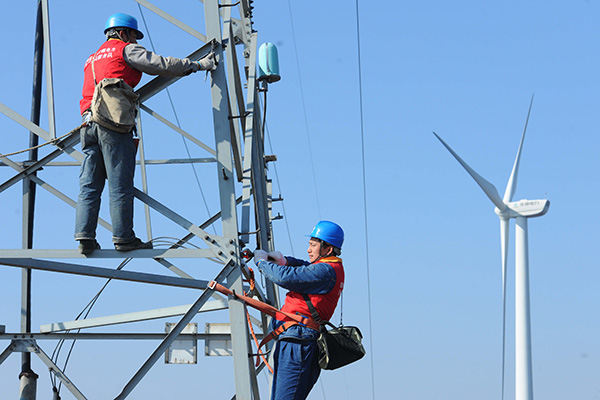 Workers check the transmission equipment at a wind power farm in Chuzhou, Anhui province. [Photo/China Daily]
BEIJING - China will invest more than 700 billion yuan ($107 billion) in a new round of rural electric power grid upgrades, according to a government statement released Thursday.
"The rural grid modification and upgrade project will solicit private investor participation under the commercial mechanism," a statement issued after Wednesday's executive meeting of the State Council chaired by Premier Li Keqiang said.
The project will prioritize destitute areas, old revolutionary bases and western regions, addressing problems like substandard voltage and insufficient power supply, according to the statement.
The government will push forward a full coverage of power supply for motor-pumped well facilities in villages of flat areas and improve the grid to meet farmers' fresh power demands in product processing and e-commerce.
The rural electric power grid construction in Tibet, Xinjiang as well as Tibetan regions in Sichuan, Yunnan, Gansu and Qinghai provinces should be finished up as soon as possible, while efforts should also be made in power grid integration, the statement said.