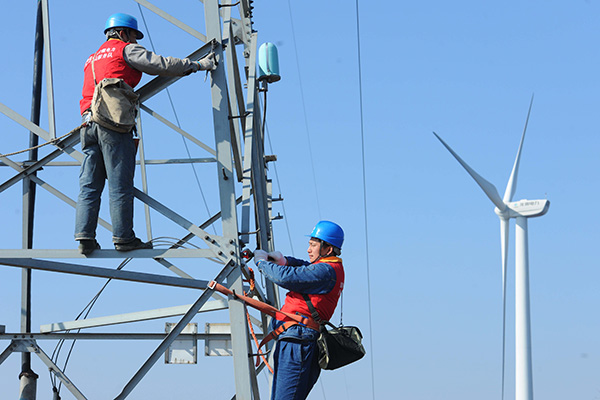 Workers check the transmission equipment at a wind power farm in Chuzhou, Anhui province. [Photo/China Daily]
State Grid Corp, one of the world's biggest utility companies, is pushing to build a global energy network, which is expected to attract investment of $50 trillion by 2050 through a new unit, sources said on Tuesday.
Also the largest electric power transmission and distribution company in China, State Grid established a company at the end of last year to develop what its President Liu Zhenya called a "global energy Internet" through a massive electricity grid sharing renewables from all over the world.
It will be a Beijing-based company with offices in New York, Paris, Rio de Janeiro and Johannesburg, he said at a recent forum on energy investment and funding in Hong Kong.
"To create a global energy Internet is to build an energy-related infrastructure covering different countries, including power generation facilities, transmission networks and energy transportation assets," said Liu.
The State company is studying the feasibility of a pilot program on power transmission not only among Asian countries but also between Asia and Europe as well as Africa and Europe.
Li Ronghua, its deputy chief engineer, said that a global energy Internet is a huge capital-intensive project, and is expected to attract $50 trillion of investment by 2050.
"Investment opportunities will come from major projects such as power development, power grid construction, and research and innovation," he said.
State Grid is building a vast ultra-high voltage transmission network in the world's largest energy-consuming market, and at the same time it plans to leverage its domestic experience to export its technology and equipment abroad, experts said.
Liu has spoken at different events to promote ultra-high voltage transmission lines, which enable the effective use of clean energy and reduce emission from fossil fuels.
He said through such connections clean energy can be distributed, while smart grids, connecting billions of households to the Internet, are the key in the process.
Huawei Technologies Co Ltd, a Chinese tech giant, is also supporting the global Internet of energy. The company provides technology for State Grid's smart grid.
"State Grid has utility assets in many countries but its ultimate goal is to export both grid transmission technology and equipment," said Lu Jinyong, a professor at the University of International Business and Economics in Beijing.
He said the Chinese company, which has built the largest electricity network in the country, can provide more stable and price-competitive technologies than other countries.
The global expansion of State Grid started in 2010, when it acquired a major stake in Brazil's electricity grid.