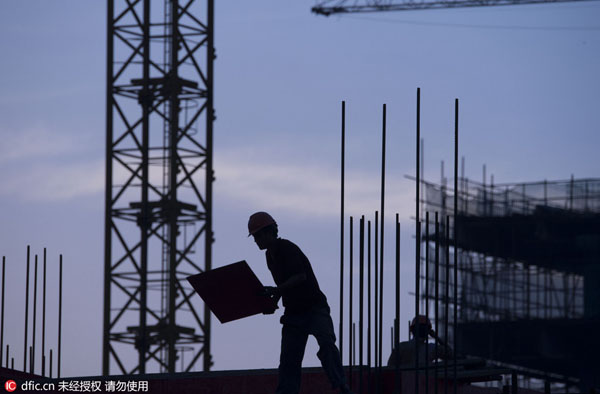 Workers on a construction site in Nantong, East China's Jiangsu province, July 9, 2016. [Photo/IC]
China's economic growth rate decreased to 6.7 percent in the first three months this year, which would lead to an expected further fall in the second quarter of this year, Jia Kang, director of the China Academy of New Supply-side Economics said on Sunday.  
According to 21st Century Business Herald, most of the forecast on economic growth in the first half is between 6.5 and 6.7 percent. 
Shanghai University of Finance and Economics' research project group pointed out that the traditional three economy driving forces - consumer growth rate, investment price and quantity and private investment growth rate, are on the decline. In the big picture where global trade is shrinking, China's continuing negative growth in imports and exports will have hard time for a turnover.
An industry expert said that private investment overseas this year is prosperous, which suppressed the space of domestic investment.
Statistics from the Shanghai Municipal Commission of Commerce show that Shanghai's foreign capital in the first five months was $6.98 billion, while outbound investment reached $13.16 billion in the same period, a 228 percent growth year on year.
"The weak domestic demand hurts the development of private economy, which is the main reason of the economic slowing down, " said Wang Guangyu, vice chairman of China New Supply-side Economist 50 Forum.