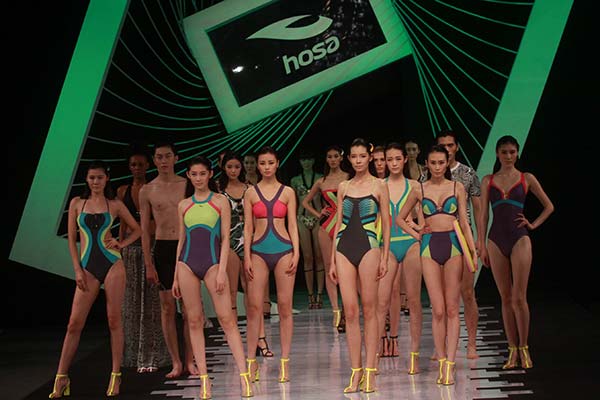 Models flaunt the latest designs in swimwear of Hosa Group, which generated 46.5 percent of 1.17 billion yuan in revenue in 2015. [YU REN / FOR CHINA DAILY]
China's newly found passion for water sports is driving the swimwear market in the country. Most local and foreign manufacturers are focusing on practical designs for indoor swimming.
Speedo, based in the United Kingdom, started selling its products in China more than 16 years ago. It notes that the market for swimwear has been quickly developing, thanks to an increasing interest in health and fitness.
The company has a presence in 50 cities across China. It says the government's policies supporting the construction of swimming pools and high-end fitness clubs with pools are driving growth in the market.
"The demand has evolved from low-priced durable products to high-quality branded goods with functions and technology that provide an enjoyable swim experience," said Roger Mao, Speedo's marketing manager in China.