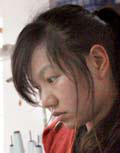 Zhao Shuang
In one of those warehouse-like buildings, Zhao Shuang, 30, hunches over a sewing machine and churns out women's business tops. About half a dozen others do the same.
Zhao came to Shenzhen to work about 10 years ago. Her husband is a construction worker. He and their five-year-old daughter live in Hubei. His parents help take care of their little one.
Zhao starts at 8 am, and usually pulls a 10-hour shift, six days a week. She says she makes 4,000 to 5,000 yuan a month, on par with the average wage for a university graduate in Beijing, which a survey by human resources provider Zhaopin last year found to be 4,746 yuan. But unlike many workers employed by big companies, she receives no healthcare or housing benefits.
Her boss, Lu Keqin, looks up from his machine to chime in.
"If they make more they earn more. When business is good and there's lots of work, they can make 10,000 yuan a month. They choose their hours, it's very flexible."
Zhao says she makes double in Shenzhen compared with what she can earn back home.
"I only see my child once or twice a year. It's really hard, I really miss her, but it's easier to make money here and I need to make money for her."
Her family story is a snapshot of the evolution of the Chinese worker. Her parents were poor farmers, she is a manufacturing worker, and she says her daughter will go to university.
"I'm just a migrant worker from a small village," she says. "I just want the best in life for my daughter."
Zhao's willingness to make personal sacrifices and work tirelessly for the good of her family is a characteristic of Chinese workers who are currently 30 or older, says Foxconn spokesman Liu. They are qualities that he believes are on the wane.
"When the older generation grew up, the Chinese economy was not good, and many families were on the poverty line," Liu says. "So they went out to make a living for themselves and also for their families. They had to work hard. In that situation, people rapidly matured.
"For the new generation, it's been the boom time of the Chinese economy. The country has seen a giant change from agricultural society to the global village. They are in touch with new things from America, Europe, and other (Chinese) provinces. They are very emotional; they have learned a lot of things at school and have comparatively good living standards. When he or she goes out to get a job, sometimes it's only to earn money for themselves, not their family, so their sense of responsibility is sometimes lower."