Opportunities galore for growth in Sino-UK bilateral engagements, Cecily Liu and Zhang Chunyan report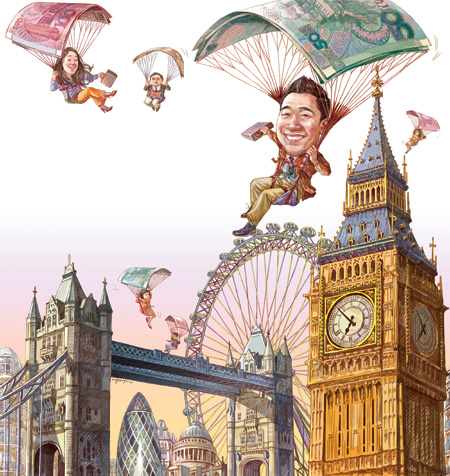 Li Min / China Daily
The United Kingdom has experienced a surge of Chinese investment in recent years, among which are some extraordinarily fast-growing companies confidently establishing their footprint on British soil through both organic growth and acquisitions.
Nick Farr, partner and head of the China-Britain Services Group at accounting and consulting firm Grant Thornton UK, says Chinese investment in the UK still has huge potential.
Farr says that British Prime Minister David Cameron's visit to China, as well as several other recent high-profile trade missions, have once again reiterated the importance of strong bilateral trade ties between the two nations.
"As the number of Chinese companies going global continues to rise, the UK appears to be well and truly open to Chinese investment, benefiting hugely from the inflow of funds," Farr says.
Since 2009, China's investment in the UK, including direct investment and mergers and acquisitions, has maintained strong momentum and has reached $12.4 billion in total, with project investments being the main beneficiary.
This year, Chinese companies have invested or planned to invest in more than 10 big projects in Britain worth nearly $5 billion, according to data from the Chinese embassy in the UK.
The fast growth of Chinese companies in the UK also highlights the huge potential of the Sino-UK business relationship, says the Grant Thornton Tou Ying 25 tracker 2013. In Chinese, tou ying means "investing in the UK".
The tracker, in collaboration with China Daily, monitors UK businesses with Chinese parent companies to identify the fastest-growing 25 companies by year-on-year change in turnover. The 2013 tracker monitors revenue growth of the full year ending in December 2011 and 2012.
These 25 companies, apart from their huge contributions to the UK economy, also employed more than 2,600 people and generated revenues of more than 17 billion pounds ($27.8 billion) in 2012, an increase of 27 percent from the previous year.
Even the slowest-growing company grew by 9 percent.
Farr says the growth tracker is a good indicator of the diversity of Chinese investment in the UK, because it contains sectors such as banking, energy, manufacturing, retail, technology and telecoms.
Of the 25 companies, 20 grew organically and the rest through acquisitions. Nearly half the companies are based in London. The rest are spread across the UK. The selected companies all have minimum revenue of 5 million pounds, at least 51 percent Chinese ownership and have been trading at least since the beginning of 2011.
Stephen Phillips, chairman of the China Britain Business Council, says that the UK's transparency level and its strong European links are compelling attractions for Chinese investors.
"Chinese companies that come to the UK get access to some of the best financial and professional services that the world has to offer. This makes it easier for them to grow and expand their businesses," Phillips says.
According to Phillips, the real benefit comes from the ability of Chinese businesses to create and protect jobs and to help British businesses become a part of the global supply chain.
He adds that mergers and acquisitions and joint ventures with Chinese companies have also allowed British companies to tap into the huge Chinese domestic market.
While several Chinese companies are planning ventures in the UK, others are taking steps to consolidate their presence and even branching out into other markets.
Mindray Medical International Ltd and China Telecom Corp Ltd (Europe) are two Chinese businesses that have chosen to grow organically in the UK, after establishing a mature presence in the Chinese domestic market.
Shenzhen-based Mindray, a medical devices maker, is a Chinese company that expects to use its UK unit as the global hub for expansion. "We are committed to international expansion, especially in the US and Europe," says David Yin, the company's managing director for Europe.
The company established its first international office in the UK in 2005. Globally, Mindray has subsidiaries and representative offices in more than 20 countries, while its net revenue reached $1.06 billion last year, of which $587 million came from international operations.
Yin says the UK is an important market for Mindray because it is one of the designated suppliers for the UK's National Health Service. "By being a part of the NHS supply chain, which has high standards, our reputation has risen in Europe and other major global markets," Yin says.
"We were assessed as a business holistically, including our product quality, commercial qualifications and after-sales service. We passed all the tests and have been a part of the NHS procurement system since 2008."
The UK is also a major hub for the Chinese company in Europe and houses the human resources and finance departments for the continent, Yin says. He says that although Mindray's products are manufactured in China, his team uses the "global design, made in China" motto to market the products in Europe.
Meanwhile, Chinese companies are also thriving in sectors where the UK is traditionally considered to have a strong advantage. In the telecommunications industry, China's largest fixed-line operator, China Telecom, is making sizable inroads after setting up its European headquarters in London in 2006.
Cao Li, managing director of China Telecom (Europe) Ltd, says the company has teamed up with several European network operators and service providers such as BT Group Plc, Telecom Italia SpA and Spain's Telefonica SA.
He says it has expanded step-by-step to include more than 10 points of presence (an access point from one place to the rest of the Internet) in locations including London, Frankfurt, Stockholm, Moscow, Paris, Johannesburg, Helsinki and Dubai in the United Arab Emirates.
"Our vision is to construct an 'information silk road of the 21st century'. Although competition in the UK and Europe is severe, our advantages include good solutions for clients, low-latency terrestrial cables through Russia to connect Europe with China, enabling a fast and reliable transfer of information, timely repair capability and good service," Cao says.
Compared with the more commonly accepted technology of submarine cables, which are found on the ocean's floors, China Telecom's strength lies in its Euro-Asia network solution, Cao says.