Industrial companies' profits see sharp drop
Updated: 2013-12-28 08:15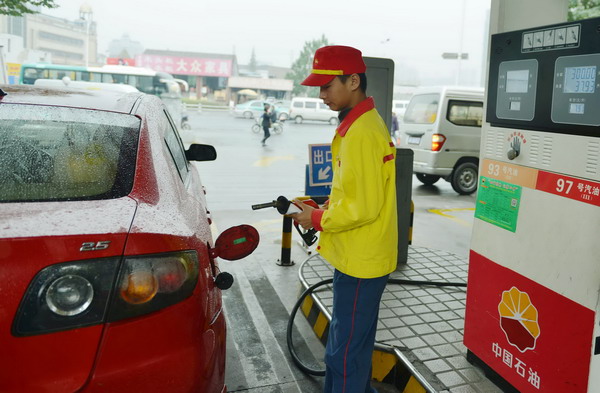 A China National Petroleum Corp gas station in Hangzhou, Zhejiang province. Five sectors, including petroleum and automobile manufacturing, contributed 56.7 percent of the increase of industrial profits in the January-November period. Provided to China Daily
Growth rate falls by 5.4 percentage points in Nov
The profit growth rate of Chinese industrial companies dropped sharply in November to 9.7 percent year-on-year from 15.1 percent in October, the National Bureau of Statistics said on Friday.
Industrial profits increased 13.2 percent year-on-year from January to November, compared with the 13.7 percent growth seen in the first 10 months of the year, the official data showed.
According to the NBS, total industrial sales revenue growth in the first 11 months of the year slightly accelerated to 11.2 percent from a year earlier, compared with 11.1 percent in the January-October period.
Five sectors - petroleum, electricity, heat production and supply, automobile manufacturing, and coking and nuclear fuel processing - contributed 56.7 percent of the increase of industrial profits in the January-November period.
The profits of private industrial companies increased faster than those of State-owned enterprises by November. Private companies' profits rose 16.3 percent by November from a year earlier, compared with 17.5 percent by October, while State-owned businesses saw profit growth of 8.4 percent in the first 11 months, and the figure was 9.1 percent by October.
The lackluster growth rate of industrial profits has accompanied a recent slowdown in manufacturing investment growth, after a solid recovery in the third quarter, said Zhu Haibin, chief economist in China at JPMorgan Chase & Co.
Zhu said that in 2014, manufacturing investment is likely to remain stable, benefiting from a rebound in the global economy and a gradual capacity adjustment and pricing recovery on the domestic front.
The administrative reform next year, which aims to remove access restrictions for private capital investment, will tend to have a positive effect on private companies' profit growth, while State-owned companies' reform and restrictions on government expenditure could drag on their industrial and investment activities, Zhu said.
Earlier this month, the NBS said that industrial output growth retreated to 10 percent in November - the lowest level in four months - compared with 10.3 percent growth in October.
A research note from Nomura Securities Co Ltd showed that its China Composite Leading Index - an indicator of the general economic growth situation - continued to fall in November. Also, another of the company's proprietary tools used to gauge the country's growth momentum, the China Heat-map, cooled in November.
"All the indicators have suggested that the growth momentum in China has weakened in the fourth quarter, and we continue to expect slowing growth in coming quarters," said Zhang Zhiwei, chief economist in China at Nomura.
The securities company predicted that growth will slow to 7.1 percent in the second quarter of 2014 before rebounding to 7.5 percent in the fourth quarter of next year.
Nomura has recently revised up its GDP forecast for 2014 to 7.4 percent from 6.9 percent.