UK stays open for Chinese investors
By He Wei in Shanghai ( China Daily )
Updated: 2013-12-04 07:57:47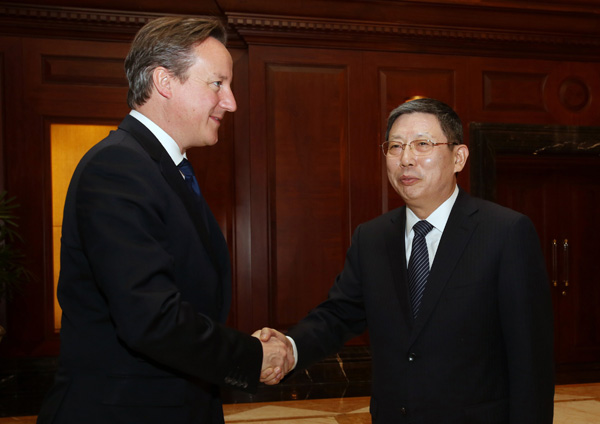 Shanghai Mayor Yang Xiong (right) greets British Prime Minister David Cameron before their meeting in Shanghai on Tuesday. Eugene Hoshiko / Reuters
Britain will continue to stay "open and welcoming" to Chinese investment by ushering in a string of preferential policies, British Prime Minister David Cameron said in Shanghai on Tuesday.
These include a fast-track business visa procedure and several business pacts signed by leading enterprises from both sides, to bolster the "indispensable partnership" between London and Beijing, Cameron said.
In a speech to Shanghai Jiaotong University students, he said one of Britain's strengths is to allow Chinese investment into sensitive areas such as national utilities and new airports.
"While some countries might say they don't want foreign capital and should do these things themselves, Britain doesn't take that view," he said.
"We should be open and welcoming toward foreign capital in our country ... because that will strengthen your economy," he said.
Cameron said the two governments have discussed a range of issues, including the problems in Syria and the need to ensure that Iran is free of nuclear weapons.
He also underscored the importance of the 1943 Cairo Declaration, which established the post-World War II international order.
"We think it is important that the postwar settlement is properly adhered to, and that needs to be done on all sides.
"Now we need to put that behind us ... and we need good, stable and friendly relations between all the countries of the Asia-Pacific region," he told China Central Television in an interview.
Cameron said China's "miraculous economic growth" and the online vibrancy in the country have left a deep impression on him.
"I was fortunate to meet Jack Ma, the chairman of Alibaba, this morning. We need to see what is happening in China online and it is fascinating to hear what he is doing," he said.
To pave the way for smooth business contacts, Britain will roll out a same-day business visa service for applicants in Shanghai beginning next year, and simplify procedures to obtain a British visa if the applicants apply for a Schengen visa at the same time.
The Schengen Area is a group of 26 European countries that have abolished passport and immigration controls at their common borders.
On Tuesday morning, Cameron witnessed the signing of a memorandum of understanding between several British companies and Alibaba Group, China's largest e-commerce group, so that the British firms can use the digital platform to sell goods and services to China.
hewei@chinadaily.com.cn

China taken on as building partner
Meetings with central and Eastern European heads underline China's global roal.