Investors keen on top rental firms
Updated: 2013-12-30 07:47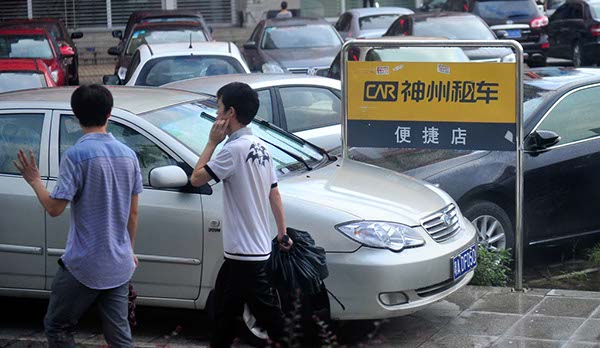 China Auto Rental outlet in Guangzhou. The biggest company nationwide has linked up with local companies as well as global giant Hertz. [Photo/China Daily] 
Ownership restrictions and changing habits drive growth
Driven by rising consumer affluence, government policies limiting cars in big cities and the rapid development of tourism, strong demand for rental cars is attracting investment to the top companies.
Shanghai-based eHi Auto Services Co, one of the top three in fleet size, announced on Dec 20 that it received an investment of more than $100 million from the country's largest online travel agency Ctrip.com.
The deal will make Ctrip the second-largest investor in the company.
Enterprise Holdings from the United States bought a 15 percent stake in the company last year, eHi said in a statement.
It did not disclose the size of Ctrip's share.
"Car rental services have increasingly become an indispensable part of travel for individual and corporate clients,"said eHi CEO Ray Zhang.
"We believe the deal will bring more opportunities for both companies.
"It will also enable us to provide more convenient travel packages," he added.
In its statement, the company said its leading market position makes it particularly attractive to investors.
It currently has more than 13,000 vehicles for rent in 80 cities across China.
Rapid growth in tourism also is attracting interest from travel agencies.
China surpassed Japan as Asia's largest travel market last year, and the car rental business has registered the strongest growth in the industry, said eHi's statement, citing a report by travel research firm PhoCusWright.
"We expect the car rental segment to maintain strong growth driven by growing demand from young tourists who prefer self-drive tours," the statement said.
According to a report by the China National Tourism Administration, there was a significant increase in the number of self-driving tourists during the National Day holiday, especially on medium and short-distance trips.
Fast-growing market
Revenues in the car rental market have grown nearly 25 percent annually in the past five years, according to industry data.
The value of the market is expected surge from $2.5 billion in 2010 to $6.1 billion in 2015, according to Roland Berger Strategy Consultants.