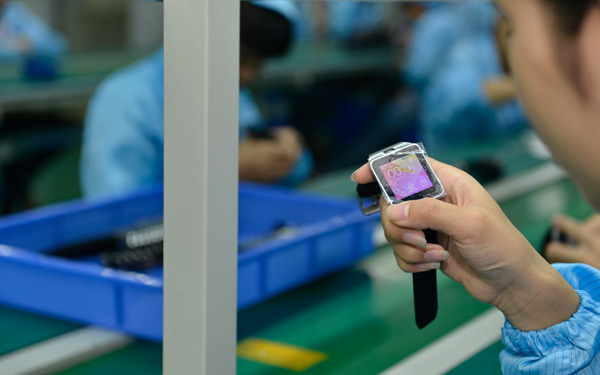 A technician inspects a smartwatch at a workshop of Shenzhen Hopu Smart Technology Co Ltd in Shenzhen, Guangdong province. [Photo/Provided to China Daily]
Last year witnessed explosive growth in smartwatches and this year, competition may intensify in terms of their external appearances. For, their core part, that is, the operating system or OS space, is dominated by just a couple of international majors.
Brands abound, but most of them use either this or that OS. There isn't much choice there.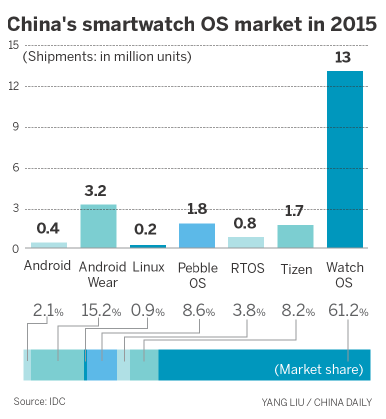 According to market research firm IDC, Apple's iOS system has the lion's share of the OS space in the smartwatch market. Apple shipped 13 million units of the Apple Watch in 2015-that is, it took 61.3 percent share of the smartwatch market.
Google came a distant second with its Android Wear OS powering 3.2 million units of non-Apple smartwatches, or 15.2 percent of the market.
Ramon Llamas, research manager of wearables at IDC, predicted that smartwatch shipments will jump to 32.2 million units by the end of this year (2016), with the compound annual growth rate for 2015-18 coming in at 42.8 percent.
Besides smartwatches, other wearables sold well in China in 2015. The new year is expected to sustain their sales momentum. Global market consulting firm Mintel wrote in its latest "China 2016 Consumer Trends" report that awareness of health-related technologies will increase in China.
"Chinese consumers have shown a strong interest in using smart technology to manage their health and wellness. A full 74 percent show interest in using wearable devices to manage their health in future," said Philix Liu, an analyst with Mintel APAC.
None of the leading OS providers comes from China even though a large number of Chinese technology companies have come up with their own smartwatches. For instance, Huawei Watch produced by Shenzhen-based Huawei Technologies, is reliant on Android Wear.
To ensure uniformity, Google has imposed limits on the extent to which its Android Wear OS can be customized at the device-maker and end-user levels. So, manufacturers cannot tweak Android Wear to distinguish themselves from other brands using the same OS. So, Google encourages developers to play around the device design.
Not everyone is playing ball with Google in this regard though. For instance, Samsung dumped the latter and developed its own OS called Samsung Gear for its smartwatches.
However, sales data suggest consumers appear to prefer Android Wear-based smartwatches to others.
More importantly, the suspension of Google services in China, and the resultant lack of access to apps that can add value to smartwatches, has resulted in Chinese technology companies lagging their international peers, in terms of developing smartwatches.
But Google is believed to be mulling a return to the Chinese mainland market in February with its Google Play and Android. Should that move pan out as expected, the contours of the smartwatch and wearables market in China could change drastically.
As if in anticipation of such an eventuality, some Chinese companies have started making moves in the wearables OS space. For instance, Mobvoi, a Chinese company founded in 2012 by ex-Googler Li Zhifei, has already rolled out its artificial intelligence technology. After receiving Series C funding in October last year, it developed Ticwear, China's first smartwatch OS, for the Moto 360 gadget.
Of course, the Big Three-Alibaba Group Holding Ltd, Baidu Inc and Tencent Inc-remain active in the competition for supremacy in the Chinese technology industry.
Baidu came up with its DuWear OS in April last year, which will be made compatible with smartwatches that run on Android Wear. Alibaba Group, which entered the smartwatch market as early as 2011, has not given up on its YunOS.
"The ambition of YunOS is not only to be the third largest in terms of smartphones but become the infrastructure for the mobile Internet age. It will seek to work in the fields of connected cars, wearables and industry terminals," said Chen Shu, a Beijing-based freelance technology expert.