Creating smartwatch for Chinese market
Li Zhifei and his partners developed a voice search application called Chumenwenwen in 2013 and launched a smartwatch based on the technology two years later.
Li said the watch, called Ticwatch, has superior interaction modes compared with other similar products.
Apart from using voice and touch interactions to control the watch's functions, Li's company, Mobvoi, invented another interaction they call the "tickle".
By sliding a touch bar on the right side of the Ticwatch, users can enlarge and reduce the picture size and adjust the volume.
The watch is based on a Chinese operating system called Ticwear developed by Mobvoi in the second half of 2014.
Li said the smartwatch is cost effective, with the average price of various models costing at about 1,100 yuan ($173).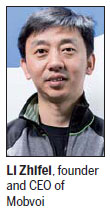 The watch is like an intelligent personal assistant and helps make and receive calls as well as send messages if told to do so.
Li Yuanyuan, co-founder of Mobvoi, said the company cooperates with several popular Chinese applications, including car-hailing app Didi and group-buying app Meituan, to better serve Chinese customers.
Ticwatch can help owners call a taxi and find local restaurants that offer discounts.
Li Zhifei and his partners, who worked as scientists in the Silion Valley and are top overseas returned students, set up the company in Shanghai in 2012 and later moved to Zhongguancun Haidian Science Park in Beijing.
Li Yuanyuan said, "We came here for talents and the Internet atmosphere."
She said there are more people in Beijing than in Shanghai who want to join startups.
To date, Mobvoi has sold about 10,000 smartwatches, according to Li Yuanyuan.
She said the smartwatch is just the beginning for the company, which plans to develop vehicle-mounted software and hardware products as well as robots for use at home.
(China Daily 09/10/2015 page7)
Today's Top News
Editor's picks
Most Viewed