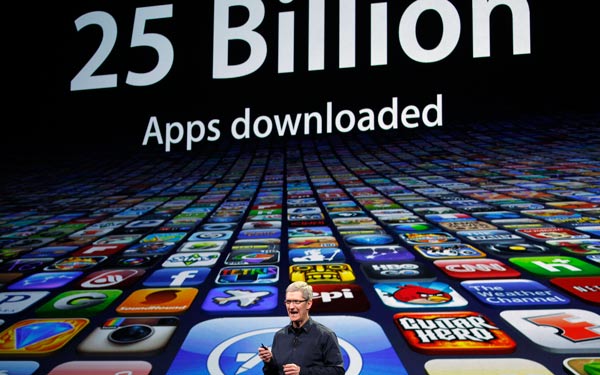 Apple CEO Tim Cook speaks about the number of apps downloaded during an Apple event in San Francisco, California. The Apple store pre-installed on iPhone devices sold in China now offers a variety of applications for users to download. [Photo/Agencies]
As mobile phone penetration reaches deeper into China, the industry regulator is stepping up efforts to ensure that the valuable real estate on smartphone screens is reserved for apps consumers really want.
The Ministry of Industry and Information Technology circulated a draft plan in November that said users must be given the choice to delete apps pre-installed on their mobile gadgets.
The regulation further said consumers should have a full say over what apps they want to install. All pre-installed apps, except for must-haves like e-mail, should be designed in a way which allows consumers to remove them.
The move is part of efforts by the government to regulate the booming yet freewheeling app development sector. In China as elsewhere, mobile users think apps are indispensable.
Over 594 million Chinese rely on apps to search for popular locations, call taxis, book movie tickets, shop online, perform banking transactions, work out travel arrangements and even jogging routes.
But still, most of them find apps pre-installed on their smartphones cripple their web-surfing and overall user experience.
According to a March report by Penguin Intelligence, a research agency linked to online giant Tencent Holdings Ltd, over 86 percent of 110,000 respondents said they once suffered due to pre-installed apps.
Such apps wake up automatically, consume the network bandwidth, drain the phone battery ... all without the user's consent. Worse, some of them can't be removed because they are hidden.
"Smartphones in China are pre-installed with more apps than those in Western countries, because domestic handset makers are locked in a bitter battle, selling gadgets at prices below cost. Pre-installing apps can boost revenue and help them offset the financial losses," said Yang Fan, a researcher at Beijing-based Internet consultancy Analysys International.
It is believed pre-installed apps can expand usage because they save users time by obviating the need to look for, download and install apps. As a result, app developers typically pay makers of personal computers and mobile phones to include their software on their products.
But over 33 percent of users said they never use pre-installed apps, and 86 percent of them chose to delete them wherever possible, mostly by reinstalling the operating system or rooting their devices, according to a report released by Data Center of China Internet in 2014.
Sandy Shen, research director at Internet consultancy Gartner Inc, said China's app sector, especially the market for applications on Android, an operating system managed by Google Inc, is in a mess.
"There are many handset vendors and sales channels in China. Be it original equipment manufacturers, online sites, telecom carriers, or offline distribution centers, all of them can pre-install applications at different levels of distribution processes," she said.
What exacerbates the problem is that in the absence of Google Play, the tech giant's official app store for Android-powered devices, Chinese Internet giants and handset vendors are scrambling to roll out their own versions. Each of them has its own unique policies for advertising and content curation, and work with various app developers for promotions and joint operations.
The fierce competition has led to a highly fragmented market. Eleven homegrown app stores, including those launched by Qihoo 360 Technology Co, Baidu Inc and Tencent, took a double-digit market share as of May, according to the Chengdu-based Big Data Research Center.
"App stores can help tech companies have a comprehensive understanding of users. By analyzing apps' ranking, download times and users' reviews, Internet companies and smartphones vendors can better grasp the rapidly changing market," said Gene Cao, a Beijing-based analyst with Forrester Research Inc.
But the proliferation of app stores also causes regulatory troubles and makes it difficult to ensure top quality of apps available to consumers, Cao said.
In July, the Ministry of Industry and Information Technology suspected 80 apps listed on over 40 app stores of collecting users' personal information illegally, draining data traffic and bundling other software.
To tap into Chinese consumers' attachment to apps, Google is apparently mulling a return to the country with Google Play, which may help clean up the app environment in the world's largest smartphone market, analysts said.
"It is never too late for Google to return to China. Google has a strong reputation in China even though most of its services are not available," Shen, at Gartner Inc, said, adding any re-launch of Google Play will be welcomed by Chinese users as that would enable them to use latest technologies such as Google Maps.
But Cao of Forrester said, Google has already missed out the highs in the country's smartphone industry, when sales peaked. "It will be difficult for the company to compete with local rivals."
Currently, Google's Android operating system dominates the country's smartphone market with roughly 80 percent market share, with Apple Inc's iOS being a remote second with 11 percent and YunOS, developed by Alibaba Group Holding Ltd, in third place with roughly 7 percent market shares, according to Sino Market Research Ltd, a Beijing-based market research and information agency
"Most apps in China are designed for Android or iOS devices. Developers don't have the motivation to develop apps based on domestic operating systems like YunOS. Instead, it is YunOS that wants to be compatible with Android or iOS apps because this is the fastest way to build up user base," said Cao.