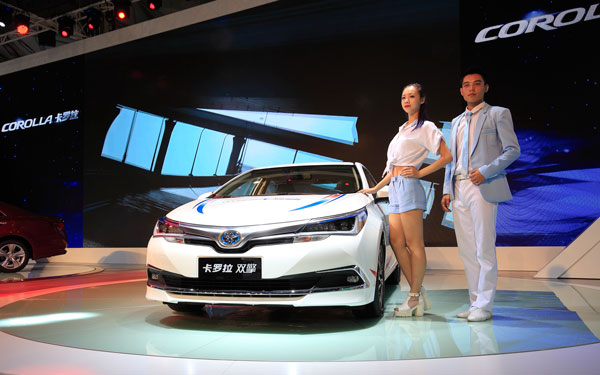 The Corolla hybrid twins a 1.8-liter four-cylinder petrol engine with a magnetic synchronous electric motor. [Photo/China Daily]
Sino-Japanese partnership FAW Toyota Motor Sales Co is aggressively betting on petrol-electric hybrid cars rather than purely electric or plug-in hybrid models, to carve a slice of the burgeoning new-energy vehicle market in China, which is plagued by mounting air pollution.
The company, jointly held by China's FAW Group and Japan's Toyota Motor Corp, said more than half of its 17 new products planned for the next five years will be petrol-electric hybrid cars.
FAW Toyota expects petrol-electric hybrid cars to account for 20-30 percent of its annual sales by 2020. It aims to boost its total sales to 1 million cars by then from 610,000 units last year.
Hirano Masanori, executive vice-president of the joint venture, said recently that petrol-electric hybrid cars are "more practical" than purely electric vehicle and plug-in hybrids to improve fuel efficiency and mileage now and in the medium term.
FAW Toyota now has two locally made petrol-electric hybrids - the compact Corolla and the Prius.
The Corolla hybrid, produced in a plant in the northern city of Tianjin, twins a 1.8-liter four-cylinder petrol engine with a permanent magnetic synchronous electric motor. In contrast to purely electric and plug-in hybrid cars, the Corolla doesn't need to be charged and its petrol engine can also produce electricity that can be stored in the electric motor to power the car. As a result, the model only consumes 4.2 liters of gasoline per 100 km, much less than cars equipped with similarly sized petrol engines alone.
Masanori added that customers experience "mileage anxiety" if they drive a purely electric or plug-in hybrid car because the mileage is still inadequate.
"If you switch on lights, listen to music or use windscreen wipers in a purely electric or plug-in hybrid car, its mileage will decrease suddenly and you will worry about whether you can drive home or not," he said.
He added that although a purely electric car doesn't produce exhaust emissions, charging batteries still consumes electricity. Roughly 70 percent of electricity in China is still generated by coal, one major reason for the country's acute air pollution.
Experts also said charging infrastructures are insufficient for the fast-growing ownership of purely electric and plug-in hybrid cars in China. They said the government should also encourage customers to buy petrol-electric hybrids.
Buyers of purely electric and plug-in hybrid cars now enjoy subsidies from the central and local governments that can be more than 100,000 yuan ($15,425) per car. In addition, they are exempt from license lotteries in many big cities, such as Beijing and Shenzhen. However, petrol-electric hybrids are not eligible for these favorable policies.
Xia Shengzhi, assistant secretary-general of the China Association of Automobile Manufacturers, said governments should take measures to boost the petrol-electric hybrid market since technologies of such cars are "basically mature" in China and use of them has "notable social benefits" of reducing exhaust emissions.
Xia predicted that the market for petrol-electric hybrids would grow rapidly in the years to come, as they have for purely electric and plug-in hybrid cars.
According to the Ministry of Industry and Information Technology, production of purely electric passenger vehicles in China soared by 350 percent to 117,200 units in the first 11 months of 2015. Meanwhile, production of plug-in hybrid passenger vehicles quadrupled to 53,000 units.
FAW Toyota said it expects sales of the Corolla petrol-electric hybrid, which was launched in October, to reach 40,000 units in 2016.
Another Toyota tie-up with Guangzhou Automobile Corp produces the compact Levin petrol-electric hybrid.
Many other carmakers also have petrol-electric hybrid cars available for Chinese customers, including Volkswagen, Honda, Kia and China's SAIC Motor.
FAW Toyota also markets a range of models powered by conventional petrol engines, such as its Crown, Reiz and Vois sedans as well as the Land Cruiser and RAV4 SUVs.