Editor's Note: As 2015 draws to a close, reporters of China Daily look back to pick key developments that left a deep impression on the year.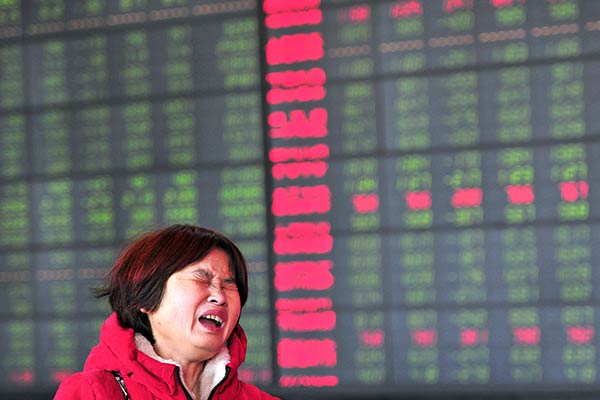 An investor at a brokerage firm in Hefei, Anhui province on Jan 19, 2015. Both Shenzhen and Shanghai stock indexes crashed on that day.[Photo/Xinhua]
Summer that scorched stock markets in China
The A-share market suffered a free fall in the summer (June-August) of 2015 when the market regulator tightened leverage norms. Funds panicked, a selloff ensued, and even global markets shivered, worried over further slowdown in the world's second-largest economy.
The benchmark Shanghai Composite Index crashed 45 percent in less than two months. The rout wiped out $5 trillion of market value and prompted the regulator to launch an unprecedented rescue.
Its measures included halt to initial public offerings, injection of 2 trillion yuan ($310 billion) to boost system liquidity, ban on large shareholders of listed companies from selling their holdings, and limits on speculative trading in the stock index futures market.
The plunge delayed reform of the Chinese stock market, prompting the regulator to intensify crackdown on market manipulators and insider trading. Several senior executives of CITIC Securities, the country's largest brokerage, were investigated for alleged insider trading.
-LI XIANG