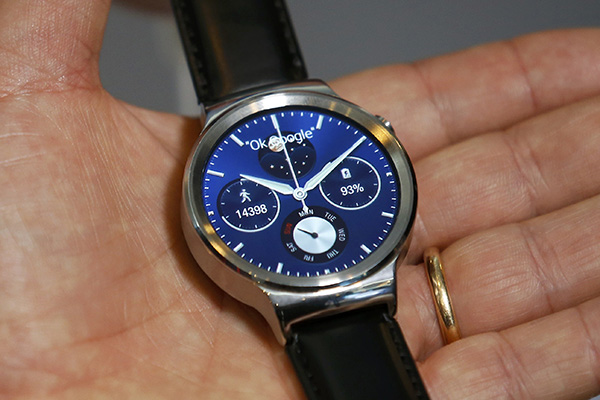 A Huawei smartwatch is displayed during the Mobile World Congress in Barcelona in March. [Photo/Agencies]
LONDON - As a direct challenger to the Apple Watch, Chinese technology company, Huawei, Wednesday launched its high-end smartwatch products in Britain.
Two months after being launched in the United States, the Huawei Watch arrived in Britain as one of the most expensive smartwatches that run on Google's Android Wear operating system. Huawei's ambitious wearables product will be priced between 289 pounds to 599 pounds, depending on the style, according to the company.
Measuring 42 mm in diameter and encased in a cold-forged stainless steel frame, the smartwatch features a fully circular 1.4-inch touch-sensitive AMOLED display, which is coated in scratch-proof sapphire crystal.
This is part of Huawei's efforts to bring more products into major markets outside of China.
Huawei has emerged as second largest Android brand in European Union's big five markets, namely Britain, Germany, France, Italy, and Spain, according to the latest smartphone sales data from Kantar Worldpanel ComTech for the third quarter of 2015.
But when it comes to the wearables, the market is by far a tough nut to crack, as many consumers are yet to be convinced that they need these products, at least in major markets like the United States.
The wearables market is still in its infancy, with only three percent of the U.S. population aged 16 and up owning a smartwatch or a smartband, according to the latest data released by Kantar Worldpanel ComTech, which specializes in monitoring and analyzing consumer behavior.
The figures are based on a survey conducted in late August among eleven thousand consumers.
The survey showed that among the non-owners of smartwatch interviewed, 20 percent were not sure what these devices were, and 11 percent had never heard of them.
"Considering the poor job vendors have done thus far in defining the smartwatch category it is surprising that 52 percent of those interviewed were able to identify what these devices are: something you wear like a watch, and that let you runs apps," said Carolina Milanesi, chief of research at Kantar Worldpanel ComTech.
But according to Kantar, manufacturers, ecosystem owners, and developers all see significant opportunities ahead in the wearables market, despite the numbers.