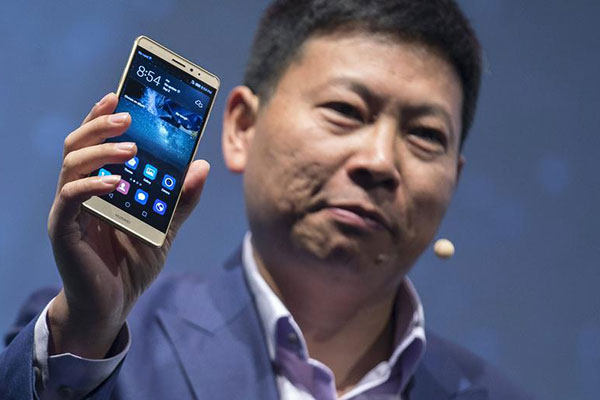 Richard Yu, head of consumer businesses at Huawei Technologies Co Ltd, presents its new smartphone, Mate S, ahead of the IFA electronics show in Berlin, September 2, 2015.[Photo/Agencies]
Company's latest smartphone offering plans to take on competition with innovative features
Huawei Technologies Co Ltd has inched close to Apple Inc in the high-end smartphone market - at least in terms of pricing.
Huawei's latest $780 flagship smartphone, Mate S, is the most expensive handset the Chinese tech giant has yet produced and is set to compete with the next-generation iPhone that Apple plans to reveal next week.
The company's previous flagships were priced in the $500-$650 price range. The lowest retail price for the iPhone 6 Plus, also a pamphlet, is about $750.
Richard Yu, head of Huawei's consumer businesses, said the Mate S deserves its price tag and will put pressure on Apple and Samsung Electronics Co Ltd.
"Samsung is facing great downward pressure and Apple seems to have hit a ceiling in innovation. It is the right time for Huawei to be on the offensive," Yu said at a product launch event in Berlin on Thursday.
Huawei is increasingly becoming a threat to Apple and Samsung after it notched up the highest sales growth rate of 46.3 percent in the second quarter, thanks to strong overseas sales and 4G smartphone sales in China.
By June, Huawei was the largest local handset vendor in China, the world's biggest smartphone market, according to research firm Gartner Inc.