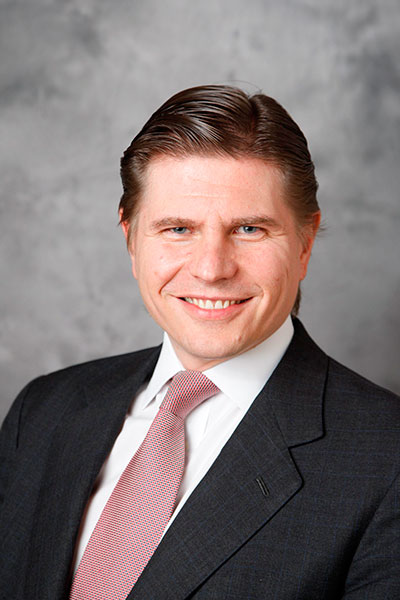 Nicolás Aguzin, Chairman and CEO, Asia Pacific, JPMorgan Chase & Co.[Photo provided to chinadaily.com.cn]
Editor's note:
Chinese economic growth is under the spotlight during the World Economic Forum's three-day meeting in Dalian, Liaoning province.
More than 1,700 participants from 90 countries will attend the "Summer Davos", which starts Wednesday, to chart a new course for growth at a time when the global recovery faces uncertainties.
China Daily will interview senior executives of multinational companies to discuss their business strategies in China and path they may take to readjust to the "New Normal".
To launch the series we sat down with Nicolás Aguzin, Chairman and CEO, Asia Pacific, JPMorgan Chase & Co.
Here are the excerpts from the interview:
1. Economic slowdown pressures have increased in China since the second half of 2014. During the first six months of 2015, GDP growth has fallen, while deflation pressures have risen in the manufacturing sector. Against this backdrop, what are the challenges that you have faced/continue to face in China, especially with regard to the business development strategy and actual operations?
The recent economic slowdown is in part a result of China's efforts to transit its economy from an investment-led growth model to a consumption-led growth model and shifting focus from the manufacturing industry to the service sector. We believe the restructuring and rebalancing will bring about sustainable growth in China's economy in the long run.
Despite the slower growth rate, China will still become the world's largest economy. It may happen a little later than expected but we remain very confident in the future of China.
The Chinese government still has policy tools to support the economy. On the fiscal front, they have expanded the local government debt swap program, increased policy bank lending via re-capitalization and financial bond issuance, as well as encouraging public-private partnerships. The government could also further reduce taxes and fees to help new enterprises and ease the 30 percent start-up equity requirement for new project investment. On the monetary front, interest rates have been cut five times and RRR three times since November 2014.
2. How do you see the economic reforms unraveling further in China? What do you think are going to be the key takeaways from the ongoing reforms for your business?
China's reforms have made significant progress in many areas. Some major steps have been taken in the financial sector (such as interest rate liberalization, the exchange rate regime and RMB internationalization), fiscal reform, administrative reform and SOE reform. Moving forward, we expect continuous reform such as land reform and household registration reform.
Renminbi internationalization and the pilot programs conducted by PBOC and SAFE related to cross-border renminbi and foreign currency transactions have brought substantial benefits to our clients and businesses in China. Not only are our international clients leveraging these new policy developments with JP Morgan's help but our Chinese clients are also capturing opportunities to establish their global treasury management network, which is an important part of their going out strategy.