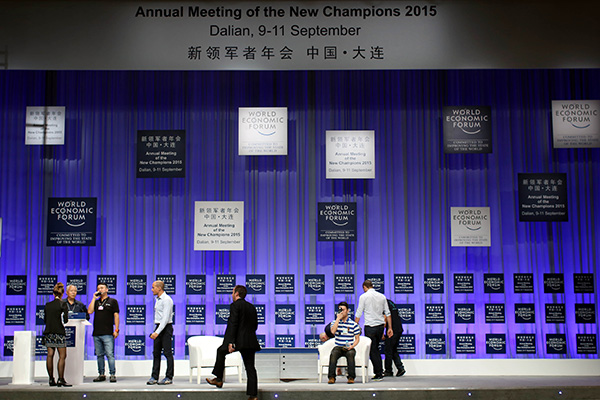 Organizing staff prepare for the upcoming Annual Meeting of the New Champions 2015 in Dalian. [Photo/Xinhua]
Technology-focused Summer Davos to discuss nation's future growth direction
Innovation and entrepreneurship hold the key to China's future because they can boost productivity to raise people's living standards and maintain competitiveness, according to a member of the managing board of the World Economic Forum.
While China's rise as a global economic power was enabled by the flow of rural labor toward industrializing and urbanizing regions, this flow is slowing. As such, China will need to boost its productivity, a key indicator that defines how rapidly an economy can grow without rampant inflation, said Lee Howell, head of WEF's global programming.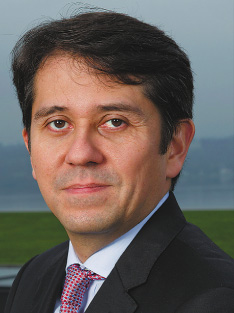 Lee Howell, head of WEF's global programming. [Photo provided to China Daily]
Howell made the comments prior to the Annual Meeting of the New Champions, also known as Summer Davos, which will take place from Wednesday to Sept 11 in Dalian.
"This (the productivity concern) is why the meeting will convene in Dalian under the theme of 'Charting a New Course for Growth'," Howell said.
The meeting, a leading global gathering on innovation, entrepreneurship, science and technology, will welcome more than 1,700 participants from 90 countries. This year's meeting is technology focused, with two of the six thematic tracks devoted to the topic.
"Arguably, science and technology are the greatest agents of change in the modern world. In the case of China, such changes are already underway: a new generation of digital entrepreneurs are disrupting industries, and a new generation of researchers are filing more patents than any other country in the world," Howell said.
He said while the first "machine age" began with the steam engine, which substituted physical manpower, the second machine age will be driven by artificial intelligence and ubiquitous connectivity. In short, machines will substitute for and augment our cognitive power. Many technologists expect that artificial intelligence will go beyond recognizing our friends' faces to driving our cars for us: The utopian scenario is that technology will make rapid communication, information acquisition and knowledge-sharing more accessible and egalitarian.
In China, Internet Plus has become a national strategy as Internet and mobile technology are changing the landscape of the country's retail, health, finance, transport and housing-virtually every industry.
Economic shift
Howell said it is an excellent example of how China is moving from an efficiency driven stage of development to an innovation-driven one. It is also a very positive move toward unleashing the creative potential of China's huge human-capital endowment.