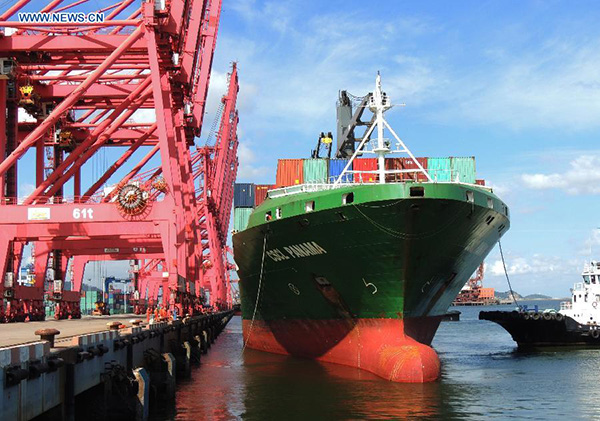 Containers are unloaded from a cargo ship in Lianyungang, East China's Jiangsu province, Sept 8, 2015. In the first eight months of 2015, foreign trade slipped 7.7 percent year on year to 15.67 trillion yuan, the General Administration of Customs (GAC) figures showed. Exports dipped 1.6 percent to 8.95 trillion yuan in the Jan-Aug period, while imports fell 14.6 percent to 6.72 trillion yuan. In the first eight months, trade surplus jumped 80.8 percent to 2.23 trillion yuan, according to the GAC. [Photo/Xinhua]
The sharper-than-expected contraction of China's foreign trade in August underscored the weakness of the Chinese economy and increased pressure on policymakers to take more growth-spurring measures, economists said on Tuesday.
Exports fell by 6.1 percent year-on-year in August to 1.2 trillion yuan ($188.5 billion), compared with an 8.9 percent slide in July. Imports tumbled by 14.3 percent, widening significantly from July's 8.6 percent decrease, according to the General Administration of Customs.
China's total trade surplus reached $57.8 billion in August, a year-on-year expansion of 20.1 percent.
Li Xunlei, chief economist at Haitong Securities Co Ltd, said it is almost a certainty for China to miss its whole-year trade growth target of 6 percent.
"The weak trade data, especially the worse-than-expected imports, pointed to the sluggish domestic demand coupled with the slump of global commodities prices, as well as the slowdown of the recovery in key international markets," he said.
Li said the exchange rate factor is unlikely to have an immediate effect on exports, even though the yuan has depreciated by about 3 percent since mid-August.
The People's Bank of China, the central bank, lowered the reference rate of the yuan against the US dollar by 1.86 percent on Aug 11.
The disappointing trade data have led some economists to lower their trade forecast, and many are expecting that policymakers in Beijing will roll out more interest rate cuts and further reductions of the reserve requirement ratio for banks to spur growth.
"As China's economy still faces strong headwinds from excess capacity in many industries, oversupply in the housing market, and high debt burdens, we believe downside risks are materializing for the second half of this year and first half of next year," Chang Jian, chief China economist at Barclays Bank, said in a research note.
Chang forecast one more benchmark interest rate cut by 25 basis points and two more reductions of the reserve requirement ratio for banks by 50 basis points each in the fourth quarter.