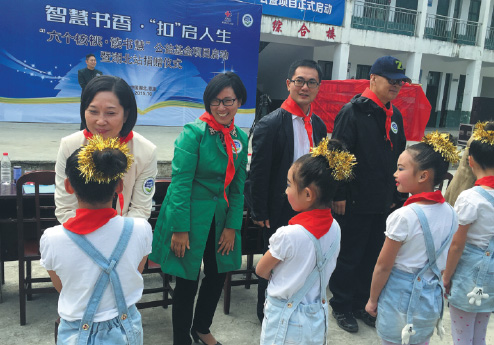 Reading Wisdom, a project to provide new books to some of China's poorest school children, is launched in Enshi, Hubei province. [Photo provided to chinadaily.com.cn]
A project has been launched to provide new books to 300,000 of China's poorest school children.
Reading Wisdom is being co-funded by the Chinese Red Cross Foundation and Yangyuan Zhihui Beverage Co Ltd, a Hebei province-based walnut-milk drinks producer.
Officials say the target is to donate books and other reading materials to at least 1,100 primary and middle schools over the next three years.
They plan to raise 30 million yuan ($4.71 million) in donations to fund the exercise.
The project was launched in Damu village primary school in Enshi, a city of Hubei province, where 1,300 new books were handed out to students.
Of the school's 110 pupils, 90 percent are "left-behind children".
Some pupils even come from households where neither of their parents remains at home, said Zhang Peng, the school's headmaster.
Its school buildings were renovated in 2009, when some of its facilities were updated, but there was little investment in reading materials, said Zhang.
Until the launch, the school had just 3,000 books, about a third of which were so old or damaged that they were unreadable.
"At an age when reading should be the priority in their life, these children simply don't have access to enough good books.
"Having more good books to read at this age will be hugely beneficial to these children in later life," said Zhang.
In coming months, the Reading Wisdom project will see new books delivered to schools in Qinghai, Shandong, Anhui, Henan and Hebei provinces.
Li Yingwei, deputy general manager of Yangyuan Zhihui Beverage Co Ltd, said the project will encourage many more children to develop the simple habit of reading.
An expert management team has been created to run the project, consisting of teachers, education officials and scholars.
It will be responsible for book selection, primarily, making sure that children of all ages are provided appropriate materials across a full range of subjects.
The team will also be involved in making sure the money is spent as efficiently and fairly as possible, by carrying out strict bidding processes among book suppliers.