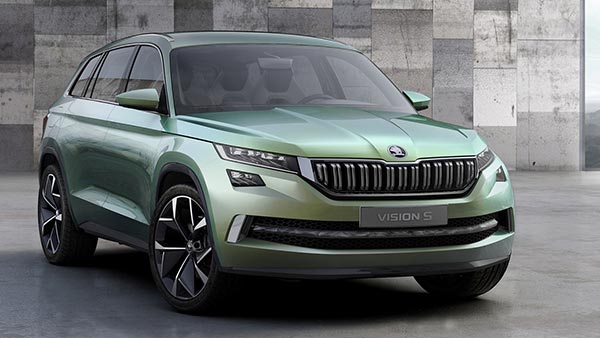 Czech carmaker Skoda's concept SUV Vision S, its first vehicle to feature six seats across three rows. [Photo provided to chinadaily.com.cn]
Czech car manufacturer Skoda is to unveil a concept car Vision S, its first vehicle to feature six seats across three rows, at the Geneva auto show set to open to the public on Mar 3.
The plug-in hybrid gives an insight into Skoda's future Sport Utility Vehicle design language, which is clearly influenced by Czech Cubism and the tradition of Bohemian crystal art, and presents the automaker's most important future technologies. The lines are precise, sharp and clean-cut; the distinctive interplay of light and shadow on the contoured surfaces creates exciting effects, which are accentuated by the Island-Green color.
With a 2.79-meter wheelbase, at 4.70 meters long, 1.91 meters wide and 1.68 meters tall, the car makes a bold statement on the road.
The car accelerates from 0 to 100 km/h in 7.4 seconds with a top speed of almost 200 km/h. And 1.9 liters of petrol is all the vehicle needs to travel 100 km (45 grams CO2 per kilometer). It can go up to 50 km on electric alone, and will travel up to 1000 km with both systems combined.
Based on the Volkswagen Group's Modular Transverse Matrix, the car is equipped with a 1.4 TSI engine is a 1.4 TSI that generates a maximum output of 115 kW and a top torque of 250 Nm. This works alongside an e-motor that provides 40 kW of continuous power and 220 Nm peak torque.
It is integrated into the six-speed direct shift gearbox, which directs the power to the front wheels. A second electric motor with up to 85 kW and 270 Nm of torque drives the rear axle.
This works independently of the front axle drive, meaning the show car has a smart four-wheel drive, which requires no mechanical coupling.
The lithium-ion battery with a 12.4kWh capacity is positioned in front of the rear axle. Skoda has responded to people's desire to communicate by introducing automotive digital networking (mobile services), providing large displays for optimum vehicle and infotainment services for all passengers, who can connect to the network several ways from each seat in the vehicle.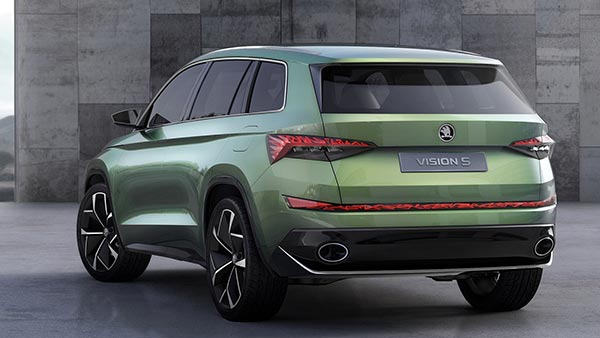 Czech carmaker Skoda's concept SUV Vision S, its first vehicle to feature six seats across three rows. [Photo provided to chinadaily.com.cn]