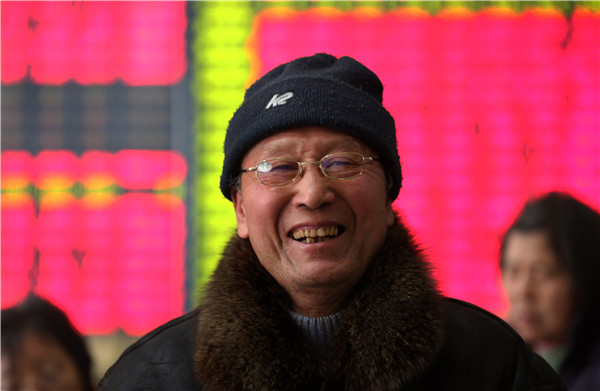 A stock investor smiles with relief in a securities company in Nantong city, Jiangsu province, after the recent rally, which was supported by the expectation-beating credit data and positive government response to currency depreciation fears.CHINA DAILY
Uncertainty deepens over whether new credit can spur strong investment growth in coming months
Chinese investors are pondering whether or not the stock rebound last week would morph into a sustainable recovery this week and beyond.
"For market participants, the question is whether the technical reprieve is sustainable," said Hong Hao, chief strategist at investment bank BOCOM International Co, in a research note.
Analysts warn any continued expectation of more monetary easing, which helped fuel the rally last week, could cause fatigue among market-people.
Last week's rally, Hong wrote, may not be sustainable as there are signs stocks of companies in the interest rate-sensitive sectors like banks and property may have been peaking. Their "relative strength", he said, "hints at easing expectations being priced in fast".
Agreed Guo Yanhong, a strategist at Founder Securities Co. "Despite the recent rally supported by the expectation-beating credit data and positive government response, we do not see sufficient factors that could support a sustained recovery and we maintain our neutral view on the A-share market."
But not everyone agrees on rate expectations.
Yang Zhao, chief China economist at Nomura Securities, said the latest data of consumer and producer prices show China's disinflationary pressure remained, which leaves room for further monetary policy easing.
"We believe they (the People's Bank of China) will eventually revert to traditional policy tools to lower financial costs. We continue to expect four 50 basis point reserve requirement ratio and two 25 bp rate cuts in 2016," he said.
The expectation of convergence in the monetary policies of major economies, and the possible shift from short- and mid-term liquidity tools to traditional rate tools by the Chinese central bank, could help support the stock market, analysts said.
The benchmark Shanghai Composite Index gained 3.5 percent last week after A-share traders resumed work after the week-long Chinese New Year holiday.
The rally pared some of the 21-percent loss the index suffered this year.
The market rejoiced as data showed a record surge in bank lending to 2.51 trillion yuan ($390 billion) in January, indicating intensified effort by the Chinese monetary authority to shore up the economy.
But economists believe China's strong credit growth is unlikely to last.
There is growing uncertainty among investors over whether the record supply of new credit by the Chinese monetary authority would effectively translate into strong investment growth like in the past, analysts said.
Against this backdrop, the top leadership in Beijing, from Premier Li Keqiang to the central bank's Governor Zhou Xiaochuan, kept sending out market-friendly messages last week.
In an effort to stabilize economic growth expectations, Beijing has said there is no basis for continued depreciation of the renminbi. The central government will take decisive action when necessary to prevent a hard landing of the economy.
Guo of Founder Securities said this shows the yuan's stability remains Beijing's priority. There has not been a clear signal the authorities will compromise on the exchange rate stability for economic growth, he said.
lixiang@chinadaily.com.cn