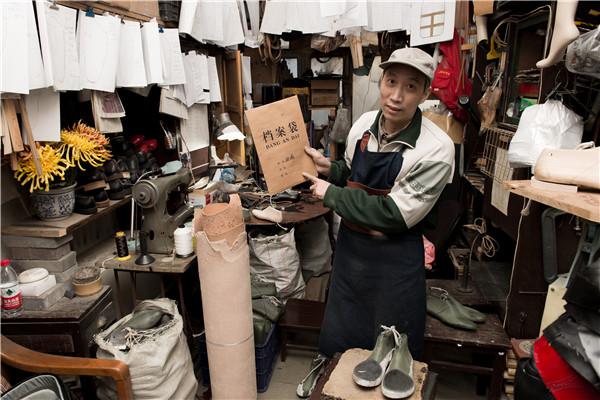 Zhang Guoqing shows a customer's file in his shoemaking workshop settled deep in hutongs (alleys) of downtown Beijing. The 53-year-old shoemaker has been crafting and designing custom shoes by himself since he first opened the workshop in 1997.WU KAIXIANG/XINHUA
Deep in the hutongs of central Beijing, Zhang Guoqing settles himself in front of a traditional hand-operated sewing machine, occasionally glancing at an iPad displaying a pair of polished brown shoes.
Surrounding him, wooden shoe trees, metal tools and scraps of leather fill the cobbler's workshop. The 53-year-old shoemaker will remain seated in front of the second-hand sewing machine all day, except when sleeping and dining. "I have always dreamed of making shoes," he said.
Tailor-made shoes usually require several manufacturing steps and specialized staff to complete, but Zhang has been crafting and designing custom shoes by himself since he first opened the workshop in 1997.
"All customers have their own customized shoe trees," Zhang said, referring to the wooden frames around which the material is molded to create a shoe. "This is bespoke crafting."
He only averages two pairs of shoes each month. "I charge around 200 yuan in labor per day. Combined with the cost of material, a pair of shoes at my workshop is around 4,000 yuan."
The price is much higher than those usually sold at stores. "But they cannot service customers who have odd-shaped feet or special design requirements."
Zhang comes from a family of shoemakers who first learned their craft after the founding of the People's Republic of China. His parents were dispatched to a leather factory in the capital from Shanghai, the eastern coastal metropolis of China.
"In the early 1950s, the country called on people 'to support the construction of Beijing'," Zhang said.
During those times of poverty, buying a pair of leather shoes was considered a luxury, the creation of such items an honorable profession.
"My father's monthly salary was more than 80 yuan, which was higher than average in Beijing," Zhang said.
As a youth, he studied traditional Chinese paintings, never thinking he would follow in his parents' footsteps. But after failing the national college exams in 1982, he felt lost, working menial jobs and scraping by.
Insisting he have a skill that will feed him for a lifetime, Zhang's parents enrolled him as an apprentice under a master shoemaker.
"'Can you handle this, boy? If you cannot, get away from me.' Those were the first words he said to me." Zhang recalled.
Zhang learned quickly and found a job at the Beijing Leatherware Factory in 1985.
With the country opening-up for the first time in the early 1980s, young people began paying more attention to the way they dress. "Leather shoes became chic," Zhang said.
His products in high demand, Zhang earned a good salary and was soon promoted to head of the factory's production department.
But the good times didn't last long. As reforms continued, dozens of shoe factories sprouted up along the country's coast, bringing Zhang's factory to the brink of closure in the 1990s.
In 1997, he was laid off. In the same year, his father passed away. As his father lay dying, he told Zhang, "Crafting is a useful skill for a lifetime, they stay dignified wherever they go."
Shortly after, Zhang was offered a job in southern China, but stayed due to his mother's failing health. Instead, he bought a second-hand sewing machine and some tools for 600 yuan and opened his custom shoe shop.
His first few months of being self-employed were filled with anxiety. He felt ashamed and was worried friends would see him in the shop.
Business was also slow, as most customers just came for simple repairs. His wife chastened him for turning down the job in the south.
Then one day, an old man and his son entered the shop. The father had never worn shoe on his right foot due to genetic deformity. "The old man had wrapped his foot in cloth," Zhang said.
So Zhang set to work making him a pair of custom shoes. "I saw the look of happiness on his face when he wore my shoes, I felt a real honor and pride as an artisan," Zhang said.
Those first customers triggered a flurry of orders and his shop soon received media attention. Zhang has been busy ever since, with the orders placed this year set to be finished in 2018.
Despite the long waiting list, Zhang has promised to speed up orders for newly weds and those with foot deformities without additional cost.
He also promised not to authorize other small manufacturing factories to reduce costs. "I must keep the reputation of the workshop, even though small tasks could be finished outside my shop and not noticed by the customers.
"Feeding my family is just a basic requirement for my workshop," he said. "I'm determined to be a master, not just a shoemaker."
But, as time goes on and the economic drive continues, Zhang worries he may be the last of a generation that cherishes the art of fine custom craftsmanship.
China has more than 3,000 years history creating leather shoes, Zhang said. But with the rise of modern industry, traditional handicraft have lost their glory.