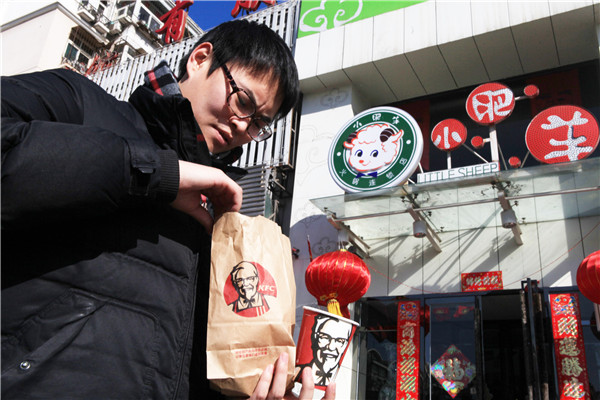 A man carries his Kentucky Fried Chicken lunch in front of a Little Sheep outlet in Tianjin. The boom-and-bust of Little Sheep Mongolian Hot Pot proves the process of going global is not always cheerful.Provided to CHINA DAILY
When foreign investors take over successful Chinese brands, joy does not always follow
As more and more successful consumer-facing Chinese brands get into the hands of foreign investors, a saga of mixed fortunes and bittersweet experiences is unfolding across the country.
The famous hot pot restaurant chain Little Sheep is a classic case study.
There was a time, not very long ago, when January-February, China's coldest period of the year, would see Chinese making a beeline for hot pot. And the ultimate winter dining experience for many was a visit to Little Sheep, whose Mongolian hot pot was the most popular item on its menu.
Little Sheep's success was legendary, until competition and a change in management put paid to its halcyon days.
Little Sheep was founded in 1999 in Baotou, Inner Mongolia autonomous region, North China. It was ranked second among the top 100 national catering enterprises in 2004, when its revenues from 721 hot pot outlets across China reached 4.33 billion yuan ($658 million).
Its main business was hot pot catering, condiment production and mutton processing. So adept was the company at them it coasted on its fame to a listing on the Hong Kong stock exchange in June 2008, the first Chinese hot pot restaurant to go public.
It was later taken over by Yum Brands Inc as the country's opening up to foreign investment in the 1980s and 1990s gathered momentum. In February 2012, Little Sheep was taken private by Yum Brands, becoming the first Chinese restaurant to get delisted.
Global giants such as Yum Brands brought with them strong financial backgrounds, rich marketing experiences and advanced management systems, which gave them an edge over Chinese companies, mostly State-owned enterprises, in buying successful local brands.
Once taken over by international majors, well-known Chinese brands experienced different development paths.
For instance, Yum Brands, the parent of KFC, Pizza Hut and Taco Bell, integrated logistics, staff training and the menu of Little Sheep. It also shut some of the franchise outlets of Little Sheep.
From the peak of 721 outlets, Little Sheep has shrunk to a 202-restaurant chain now. In recent years, customer flow has ebbed due to internal and external factors, said people familiar with the goings on by quoting the China Business News.