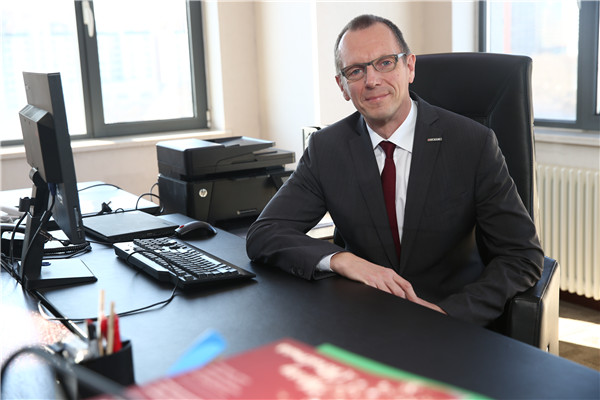 Michael Koenig, CEO of China National Bluestar (Group) Co Ltd, says the company has been the frontrunner in the internationalization of Chinese companies.CHINA DAILY
Michael Koenig is set to lead State-owned chemicals company into a 'brighter future'
Michael Koenig, CEO of China National Bluestar (Group) Co Ltd since January, plans to bring more goal-driven management expertise to the global chemicals company. An ex-Bayer executive, Koenig was appointed to head the subsidiary of State-owned chemicals giant China National Chemical Corp (ChemChina).
Bluestar's main businesses are new chemical materials and animal nutrition. Koenig has been attracted by the fast growth of Bluestar, which, in his view, is one of the most globalized chemical companies in China.
"Bluestar has been the frontrunner in the internationalization of Chinese companies for many years. If a company is not already on its way in globalization, it would be very hard for a foreign executive to manage it," he said.
Koenig has always been fascinated by the rapid development of Bluestar. For him, the new job marks "a true honor to lead this company into an even brighter future".
Bluestar is a very international-oriented company already with a strong portion of its business outside China. Its nutrition and silicon businesses are definitely among the global industry leaders in their field. Through acquisitions, it has been very successful in Europe. The firm also has a very successful business in Australia, according to Koenig.
"We will leverage the strengths we already have in Europe but we might also look at the United States and see how we can increase our presence there," he said.
At Bayer, the more than 150 years old global chemicals giant, Koenig learned that "with a good forward-looking strategy, clear processes and good structures, you can make a company continuously grow over a long time.
"Compared with Bayer, Bluestar is a very young company but it's similar in many ways. I have worked in Bayer at all management levels, from plant engineer to member of the board. I am here to shape and bring my own experiences from the Western system to Bluestar."
As a foreign executive leading a Chinese State-owned enterprise, Koenig brings a more outcome-focused approach to his management. For him, transforming Bluestar into a global company with Chinese origins is extremely exciting. He believes companies that are best able to combine the two cultures will emerge as the most successful.
"Western management has changed a lot in the past 20 years, pretty much from effort-driven to outcome-driven. In China, at times I still see the effort-driven management style. We talk less about what this person has achieved and more about what he is doing. People need targets and goals. Managers in particular should have targets that are realistic but ambitious."
In Koenig's view, Bluestar has the advantage that no other company in the industry so far has, which is the access to Western structures and technologies together with China as the home market. He said he would have come to only Bluestar among Chinese companies, when he was thinking about the next move after Bayer.
"Over the long term, companies always have advantages in their home market, so we should be able to get ahead of competition, being a Chinese company that also has the Western part. We just need to find the best way to combine these two cultures," he said.
Koenig is aware of the challenges brought by tougher competition in the chemicals industry in China, which has become much tougher compared with the situation at the beginning of the century.
"Today, literally every successful Western business has companies in China. Plus, you have a number of fairly competitive Chinese companies. In today's market, generating growth, especially profitable growth, is a very tough business," he said.
Also, the competition for talented personnel has grown. Though the capability of talents in the chemical industry has increased tremendously over the last decade, Koenig still feels a significant shortage in talent, literally in all areas, marketing in particular.
"The systematic talent development that foreign companies have nurtured intensively is only beginning in Chinese companies. Top management in foreign companies is spending significant time on the questions of who our talents are, how we can develop them and how we can give them the exposure they need to get to higher levels. I don't see that yet in Chinese companies," he said.
"I try to understand how my colleagues work here, why they are approaching topics in a certain way and try to listen a lot. But I also expect that people listen to me. We together will find the management style and structure that really combines both cultures. That's the opportunity that has attracted me to the position," he said.