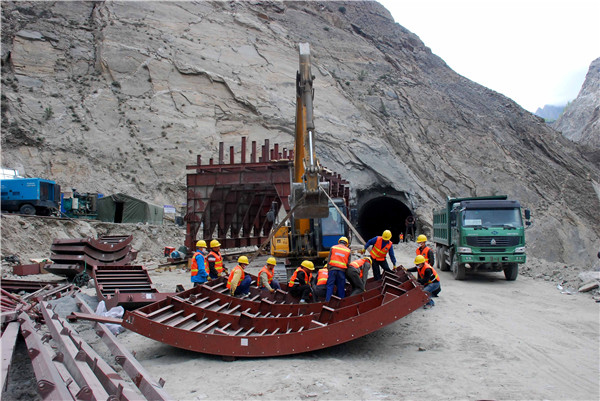 China Communications Construction Company Ltd workers prepare tunnel-supporting steel frame at a construction site along the Karakoram Highway in Pakistan.CHINA DAILY
Karakoram Highway project to transform Pakistan and generate handsome returns on Chinese investment
The improvement of the Karakoram Highway of the China-Pakistan Economic Corridor has greatly boosted transportation of farm produce and tourism in the north of Pakistan, said top executives of China Communications Construction Company Ltd or CCCC that has aided the renovation.
The highway, which used to be open for only four months every year, runs through the year now.
"The improved road has enhanced the economic ties between China and Pakistan. It is a road leading to abundant wealth and prosperity for the Pakistani people," said Sun Ziyu, vice-president of CCCC, a major Chinese State-owned enterprise principally engaged in the design and construction of transportation infrastructure.
"A smooth road plays an important role in China's investment in agriculture, infrastructure and energy in Pakistan. The China-Pakistan Economic Corridor is a key hub along the Belt and Road Initiative since it connects the Silk Road Economic Belt and the 21st Century Maritime Silk Road," said Sun.
The Karakoram Highway is the northern section of the China-Pakistan Economic Corridor, a $46-billion project that connects Gwadar Port in southwestern Pakistan to China's northwestern Xinjiang Uygur autonomous region via a vast network of highways and railways.
The 1,224-kilometer Karakoram Highway is one of the highest paved international roads in the world. It connects Xinjiang of China and Gilgit-Baltistan of Pakistan across the Karakoram mountain range at a height of 4,693 metres from the sea level.
The construction of the highway started in 1960s with China's aid, and finished in 1979. It is the only land way to connect the north of Pakistan with the capital Islamabad and the southern coastal regions. It is also the only route on the land between China and Pakistan.