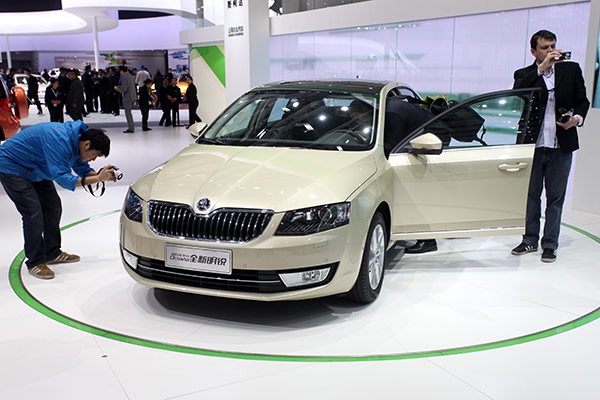 The all-new Skoda Octavia, which is expected to hit the China market in May, will help Skoda establish its brand among Chinese customers. [Provided to China Daily]
Looks to independent sales network and stronger image
Skoda Auto expects to move out of parent company Volkswagen's shadow and compete as an independent brand in the Chinese auto market, said its chairman Winfried Vahland.
The Czech brand's global sales in the first quarter rose 25 percent year-on-year to a record 250,000 vehicles.
"The growth indicates that we should be able to have a more independent position at Shanghai Volkswagen," said Vahland.
He made the remarks as Skoda unveiled the new Octavia on April 20 at the Beijing auto show.
"We need a more independent, more powerful image to boost our popularity in the Chinese market. And Shanghai Volkswagen a
gree
s on that," said Vahland.
He said Skoda will has new technical representative on the Shanghai-Volkswagen's board of directors beginning in May, adding that another two already represent the brand in sales and marketing.
"Instead of a 'little brother' of Volkswagen, we are an independent automaker with a history of 120 years."
He said Skoda will have an independent sales company when its annual sales in China reaches 500,000 units, a target the brand expects to achieve in 2018.
China is now the Skoda's largest market worldwide. A total of 227,000 vehicles were sold across the country in 2013.
He said he is satisfied with the brand's performance.
"We now have a 1.7 percent market share, which indicates that we are on the right track. Many experts estimate that the Chinese auto market will grow by around 10 percent. I hope our growth will not be lower than that."
His confidence is partly due to the new Octavia that proved a success in international markets since its global premiere in 2013.
"We are confident that the new Octavia will be popular in China now that it has helped drive up our sales in Europe by 42 percent in the first quarter this year," said Vahland.
The third-generation Octavia has the largest space, lightest weight, best safety performance, greatest practicality, greatest comfort and most eco-friendly performance of any Octavia ever produced, according to the company.