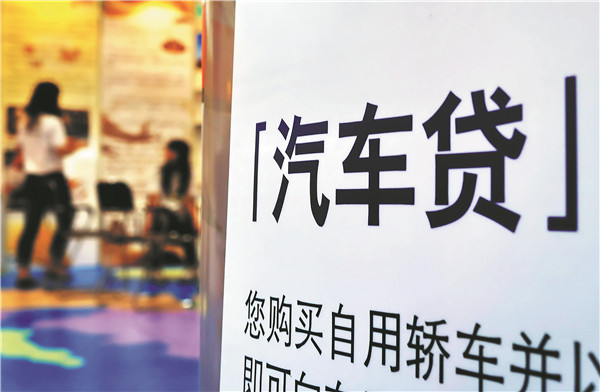 Easier access to auto loans is part of support for China's manufacturing industry.JING WEI/CHINA DAILY
Move to increase auto consumer credit to boost development
The percentage of down payments needed on new-energy vehicles and secondhand cars in China is expected to fall, as the central government attempts to maintain stable growth in the country's manufacturing, adjust the nation's economic structure and raise the level of performance.
Last week, the People's Bank of China, China's central bank, jointly issued a directive with several ministries on strengthening financial support for development of the country's manufacturing industry.
The directive encourages banking financial institutions to lower the percentage of down payments of loans for NEV and secondhand cars, as long as the banks can properly control the potential risks.
It said the move is to increase auto consumer credit and support the development of new-energy vehicles and related industries.
"It is a good signal, which will certainly offer more opportunities to the market and more choices to e-car customers," said Hu Xiaoqing, PR and marketing director of Shenzhen BYD Daimler New Technology.
BYD Daimler is a joint venture between Daimler and local carmaker BYD, the leading new-energy vehicle manufacturer in China. Its Denza pure electric model has become a rising star in the NEV market since it hit the market in late 2014.
Timing and details are vital, Hu said. However, she questioned whether the directive would result in real action.
A spokeswoman from Volkswagen Finance China said the company welcomes the directive, and would cooperate with the government and make any adjustments needed.
She said the directive would make owning a car easier for consumers, and increase the number of NEV and used car customers, who currently account for a low proportion of loans from Volkswagen Finance.
Some industry insiders think otherwise.
Zeng Zhiling, managing director of LMC Automotive Consulting (Shanghai), predicts the directive would not affect the demand for vehicles in the short term.
Zeng believes the new-energy vehicle market is driven by policies such as restrictions on purchasing vehicles and license plates, as well as traffic control in major cities such as Beijing and Shanghai.
The demand for new-energy vehicles in those places will not change as NEV buyers there have little interest in car loans, said Zeng.
Low-end new-energy car buyers are mostly from small cities and towns, Zeng added. He said they also don't need auto finance as the cars are very cheap.
Zeng does not expect the directive to substantially influence the secondhand car market either, as the market currently "lacks standardization and is full of amateurs and scalpers".
Sun Dan, CEO of Jing Bei Club, a high-end used car e-commerce platform, forecasts a bright future for its business and a 20 percent sales increase.
"High-end car buyers are mainly youngsters who do not have much cash, so they often turn to their parents or a home equity loan," Sun said.
Currently, auto loans only account for a small portion of China's total auto sales. Zeng predicted loans would account for 4 to 5 percent of total auto sales by 2020.
China's current rule for down payments on auto loans requires no less than 50 percent for secondhand cars and no lower than 20 percent for new cars. There is no separate rule for loans to purchase new-energy cars.
In actual practice, the down payments required for a secondhand car is between 30 and 35 percent, Sun said.
Sun estimated down payments for used cars would change to 20 to 30 percent from the current 50 percent, if the directive is effective.
He also urged more banks to provide loans for used cars. He said the industry is currently monopolized by Ping An bank and a few other financing institutions.
In the future, Zeng said China may create new policies regarding down payments on new-energy cars, as promoting NEVs is a priority for the country.
Customer feedback
Jason Wang, 36, who borrowed to buy a Mercedes-Benz A two years ago:
"The key points are loan interest, service charges and free gifts, rather than down payments," Wang said.
Li Qi, 40, owner of multiple Bentleys:
"It will be very attractive for car buyers if there is no loan interest.
"Auto financing raises the cost of vehicles so I wouldn't use it."
Hao Yan contributed to this story.