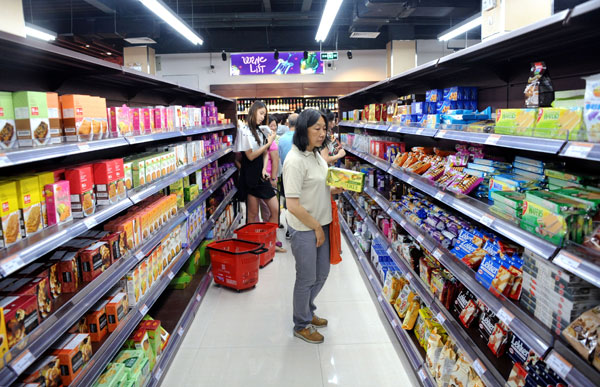 A shopper holding a box of cookies eyes other imported foods at a mall in Shanghai. Yang Yi /China Daily
Japanese brand Calbee's breakfast cereal with dried fruit and nuts has been on the must-buy list of mainland shoppers in Hong Kong.
The breakfast cereal's price is about triple that of other oatmeal. But in just one year, it has garnered a 1.7 percent market share and doubled the sales of breakfast cereal category in China, according to global research company Kantar Worldpanel.
Evidently, Chinese consumers are willing to pay more for a high-quality product.
This willingness may save the sluggish fast-moving consumer goods market, whose sales grew just 3.5 percent in 2015, a five-year low, according to the China Shopper Report 2016 published by Bain & Company and Kantar Worldpanel.
Jeff Williamson, director of California State Trade and Export Promotion, attributed the rising demand to the increasing purchasing power of middle and upper classes in China.
Williamson made the remarks at the 27th Food Expo in Hong Kong in mid-August. He said, "There are about 225 million middle class people and another 60 to 70 million upper class people in China, so the market overall is almost larger than that in the United States."
Authentic, original products, particularly foods, are shaping buying decisions now, he later told China Daily, adding health foods from California are doing very well in China.
The Crunchies Natural Food Company this year launched freeze-dried fruit products in Hong Kong, where many mainlanders buy high-quality imported foods.
Products like groceries and certain food items bought in Hong Kong in moderate quantities for personal use are exempt from customs and import duties for mainland visitors to bring back across the border.
Typically, mainland visitors buy imported milk, cosmetics, diapers and luxury bags in Hong Kong because of relatively low prices and high quality.
But such exemptions are not applicable to electronic gadgets and appliances.
Astor Kwong, head of sales for the Asia Pacific Consumer Products Division, Crunchies Natural, said baby and children products are received "very well" in the Hong Kong market.
As top-quality snacks are priced relatively higher, Kwong said the company also developed smaller, low-priced packages to make inroads into the Hong Kong and mainland markets.
It's a strategy used by other brands as well.
Wu Ting, a distributor of a chili sauce made by US-based Huy Fong Foods Inc, said the price of 9 oz (255g) bottle is about 20 yuan in China's supermarkets - about the same as a local brand.
But the imported sauce is better because it is fresh and healthful, she said, adding the manufacturing process takes only two hours, from plucking chili to packing the sauce in a bottle, without adding water or pigments.
Up to 400 tons of the sauce have been exported to China and Hong Kong so far, and the company expects rapid growth in sales, she said.
Besides foods, high-quality imported goods for everyday use enjoy demand from mainland visitors in Hong King.
Ray Schuschu, vice-president of international sales at Earth Friendly Products, a US-based brand of plant-derived cleaning products, said the firm's business in China is growing at 10 percent annually.
He said Chinese families, especially those with children, are becoming "more aware of what they are cleaning their house with".
grace@chinadailyhk.com