Colas, sugary drinks and other much-maligned beverages of their ilk are feeling the heat not just of the summer but from the rise of new-age packaged liquids that are natural, healthful, harmless or vitamin-fortified.
And consumers such as Lin Weiwei find these novelties cool. On a recent visit to a supermarket, Lin loaded as many as six packs of coconut water into her trolley.
"Suddenly, many of my friends are talking about these. They say they drink coconut water after a workout. Some are into freshly squeezed fruit juices," said Lin, mother of a four-year-old in Beijing.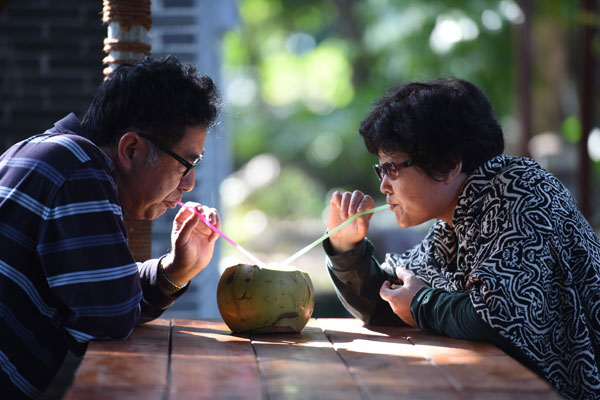 A couple share a tender coconut in Qionghai, Hainan province. Meng Zhongde / For China Daily
According to Sam's Club, a high-end retailer in Walmart Inc, packaged coconut water is now part of the premium products offered to its members in China.
The category already has established brands such as Coconut Palm and KOH Coconut. The latter was introduced in 2014, and has since seen its sales surge, with a bottle retailing around 15 yuan now.
According to an industry report, Chinese consumers increased their spending in 2015 across almost every segment, buying better products, preferring well-known brands and generally striving to improve the quality of living.
Total consumer expenditure grew by 10 percent to reach 31.7 trillion yuan ($4.8 trillion) last year, with per capita spending around 23,095 yuan.
According to The Chinese Consumer 2016 Report by Mintel, the sports drinks segment, which is characterized by an emphasis on scientific balance in ingredients, performed well last year.
This is attributed to rising awareness of harmful effects of flavored, pigmented and high-sugar drinks as well as increasing popularity of coconut-based beverages or plant-based protein drinks among high-income consumers in Tier 1 cities.
The latter sub-segment is expected to grow fast within the non-alcoholic drinks segment as more and more people include regular exercise in their lifestyle, said the report.
There is some evidence to that effect already. Vita Coco, the biggest coconut water brand in the United States, started sales in China in late 2014. It even roped in Red Bull China to take a 25 percent stake in its China business in July 2014, according to Julia Lee, a food-and-beverage analyst with Mintel in China.
She said a related drink, juice squeezed from coconut pulp, has been popular in China for more than 20 years. Coconut Palm is the leading brand in the category.
"The non-alcoholic drinks category, with coconut water as a key offering, has developed dramatically in recent years," she said, adding such products have gained visibility thanks to their pro-health image.
This factor has also contributed to the growth of sports and energy drinks in China in the past few years. That may be because coconut water has been a popular ingredient in Western sports and energy drinks, she said.
Although sales growth of health drinks slowed in 2015, awareness of them has risen. The Mintel report notes this may be because of the restructuring of China's economy where focus is shifting to domestic consumption from investments and exports.
Mintel research indicates growth in consumer expenditure outpaced GDP growth rate on optimistic economic outlook of consumers, whose disposable incomes rose by 7.4 percent in 2015.
However, emerging products such as coconut water and flavored water fortified with vitamins and electrolytes could struggle to post high growth rates in coming years, said the report.
Yet, suppliers may well introduce more coconut water products by riding piggyback on established health drink brands in China, said Lee. For example, sports and energy drink brands could use coconut water to reposition themselves in the category of healthier, natural drinks.
That might blur the line that separates beverages such as plant-based protein drinks, and help reduce negative perceptions about sports drinks in China, and increase their competitiveness, she said.
wangzhuoqiong@chinadaily.com.cn