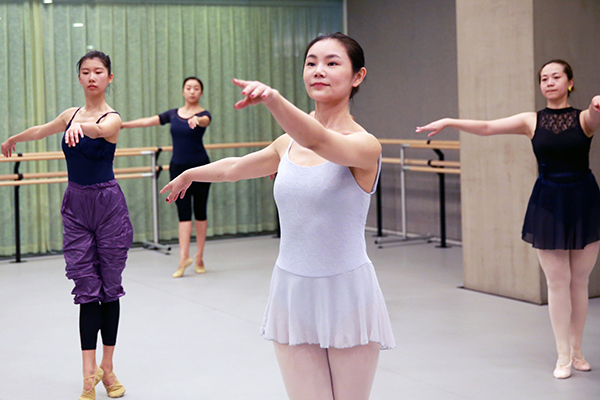 Dancers practice at the Morning Star Ballet studio in Beijing. Morning Star is the first Royal Academy of Dance-authorized school on the Chinese mainland. [Photo/China Daily]
Classes popping up everywhere, a reflection of increasing consumer disposable incomes
An exhausted 28-year old Hu Yulei stretches after having finished a ballet routine with her classmates at the Morning Star Ballet Academy in the Sanlitun area in central Beijing.
Hu started practicing ballet in Nanjing at the age of six and she now uses the classical dance as a way to exercise and to escape from her daily working routine.
"I thought it would be good for me to have an activity where I can focus and have fun," said Hu.
Ballet studios are experiencing a growing wave of popularity in China, as an increasing number of both adults and children are discovering the benefits of classical dance.
Ballet teacher Adriana Wang, who has been teaching ballet for 20 years in public and private schools in China, points out that ballet classes have been popping up everywhere lately across the country.
"There are ballet lessons in all the club houses in almost every compound across China, and most of them taught unprofessionally, for fun or as an after-school activity," explained the ballet teacher.
The ballet boom is seen as a reflection of China's increasing disposable income. Nowadays, Chinese are eager to spend a larger part of their income on leisure activities that provide emotional gratification.
"Increased discretionary spending that promotes both physical and emotional well-being is expected to take the lead in the near future in the leisure and entertainment market," explained Laurel Gu, an analyst at market research firm Mintel China.
"There are lucrative opportunities for market players to cater to consumer's evolving emotional and material needs," she added.
Last year, the leisure and entertainment market reached 1.5 trillion yuan ($225.3 billion) in revenue, growing at an average of 12.5 percent over the last five years, according to Mintel.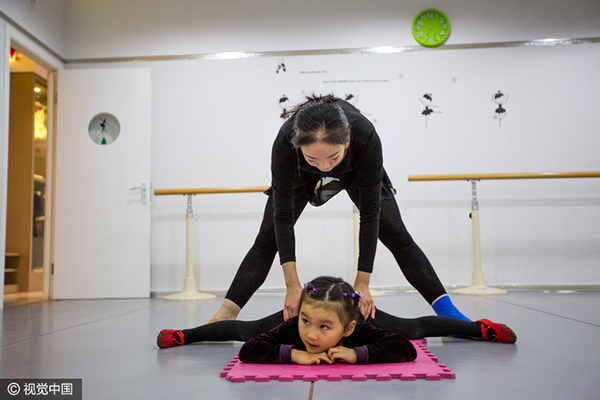 An instructor helps trainees in a ballet training course in Beijing. [Photo/China Daily]
However, given that it is a recent phenomenon, there are no official statistics to determine the exact amount of ballet studios opening in the country.
UK-based premium dance floor provider Harlequin Floors has profited from the recent boom of amateur dance studios.
The company first entered the Chinese market in the 1980s to sell sprung floors, ballet barres or dance handrails as well as technical theater solutions in the country.
Since the inauguration of an office in Hong Kong in 2008, the company has experienced a steady growth year-on-year in the Chinese market thanks to this growing passion for dance.
"Over last five years, sales in China have increased from 15 percent to 32 percent", said Annie Shek, marketing manager at Harlequin Floors.
Morning Star, one of the largest private ballet studios in the capital, opened in October 2014 to meet the increasing demand for ballet lessons.
The academy is divided into four large studios, where children and adults practice their technique while live piano music plays in the background.
"When we first opened two years ago we had only a dozen students," explained Emma Wang, director of Morning Star and a former dancer of China's National Ballet.
"Nowadays, we have more than 100 students (including children and adults) and our four studios are always full."
Wang expects this number to keep growing as more parents in China believe that classical ballet can have positive effects in the academic lives of their children.
"Parents appreciate the musicality of ballet and the discipline that it promotes," added Wang. "However, the most important thing is that ballet exams are recognized by British universities."
Nowadays, a growing number of ballet studios in China are offering preparation courses for the Royal Academy of Dance in Britain (RAD) examination, a certificate that grants students bonus points when applying to enter a university in the UK.
This year around 2,000 students took the RAD exam in Beijing and another 6,000 in Shanghai, according to Wang.
Each year, around 230,000 candidates from all over the world take the RAD examination.
Pricing is also an attractive factor to consider ballet lessons, as the average cost of an hour's class is 200 yuan ($30.3).
Nonetheless, the ballet bug is transcending the traditional classical art and becoming the new workout fad.
Five years ago Danish entrepreneur Siri Nordheim co-founded boutique fitness studio club Z&B in Shanghai, the first to introduce Xtend Barre in China, an exercise routine that uses a ballet barre and some of the moves of the classical dance.
"Barre is a total sculpting and cardio workout that will create flat abs, a lifted seat, toned arms, and long lean legs," said Nordheim. "Women feel elegant and graceful while doing it."
The fitness company is growing quickly-having recently opened another studio in Shanghai-and the third one in the city just opened on Sept 10 as Chinese seek alternative workouts.
"We started with two classes a week with 10 students in each," said Nordheim. "Today we offer 150 classes and have around 5,000 bookings per month."
Most customers include women between ages 25-45, but the studio also offers ballet lesson for kids and even toddlers, with prices ranging between 80-140 yuan per class for members and drop-in options for 150 yuan per class.