Inexpensive foreign wines sold on e-stores convert middle class and young consumers into oenophiles
Demand for affordable imported wine is on the rise in China and driving US exports.
Jeff Williamson, director of California State Trade and Export Promotion, told China Daily at the 27th Food Expo in Hong Kong in mid-August that California's wine exports to Hong Kong and the Chinese mainland are recovering from a sluggish 2014.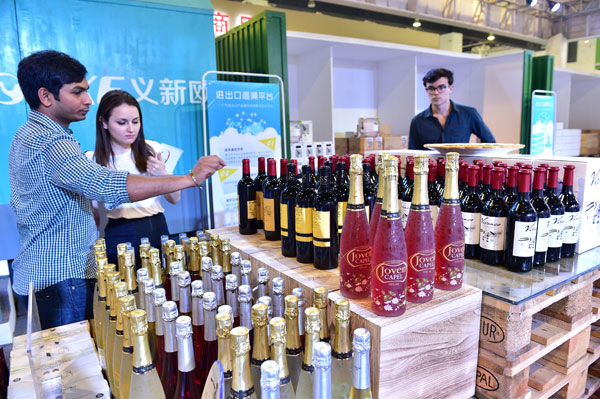 Consumers select imported wine at a free trade port zone in Qingdao, Shandong province. Cui Pengsen / For China Daily
Chinese Customs released data that China's imported wine market made significant headway in 2015, with consumption volume of imported wine reaching 43.7 million - liter cases, a 37 percent increase over 2014.
Williamson said California's exports to China kept growing in double digits from 2007 to 2013, but then plummeted by about 10 percent in 2014. Thankfully, sellers adjusted to market changes soon.
He said US wine shipped to China has become more value-oriented. "Producers are making 20-dollar bottles of wine, or even below (that price), and they are doing very well on China market."
The rise of China's middle class is driving the imported wine market. A UK-based wine research institute, Wine Intelligence, said in its latest report - China Landscapes 2016 - in July that about 48 million urban upper middle class Chinese were drinkers of imported wine last year, up from 38 million in 2014. Wines priced in the 200-300 yuan range sold the most.
Williamson also found that sales of white wine are soaring. This variety has gained popularity particularly among women, he said. "The market for wine is becoming more mature and people are becoming more knowledgeable in the China market."
Dave Yip, a Hong Kong citizen in his 30s, started to import wine to Shenzhen in Guangdong province by the end of 2014. The volume of his imports in 2015 was about 20 containers.
He said drinking wine is becoming a fad among commoners. The most popular wine in his business is the one costing about 300 yuan.
Williamson said online channels are boosting sales of inexpensive wines in China.
He said in the last two years many companies visited California, the fourth largest wine exporter to China market, and selected products for sale on Taobao.com, Alibaba Group's online marketplace.
Low-priced wines attract low import duty and other taxes, thanks to the mainland's cross-border e-commerce preferential policy, he said.
So, products sold online with an import duty of less than 50 yuan are exempted from taxes, while mainland customs normally levy a 17 percent value-added tax and 14 percent tariff on imported bottles of wine.
Such bottles move quickly off online shelves that are favored by young buyers, whose numbers are growing to be on a par with the mainstream in China's wine market.
The China Landscapes 2016 report said approximately half of young consumers, aged from 18 to 29, buy wine online.
This is having an impact on sales and marketing strategies of wine importers. So are changes in the price range of popular wines, consumption channels and the mainstream consumer segment.
Zhu Hailun, a mainland wine supplier, said she will start selling imported wine this month on online wine selling platform Jiuxian.com. So far, the online outlet used to focus on Chinese white wine. Now, imported wines will retail between 200 yuan and 300 yuan.
Last year, she sold about 10 containers of red wine imported from Europe and the Americas.
She expects the business to increase this year, thanks to online channels and new international brand partners.
grace@chinadailyhk.com