Chinese buyers circle soccer 'super' agent Stellar Group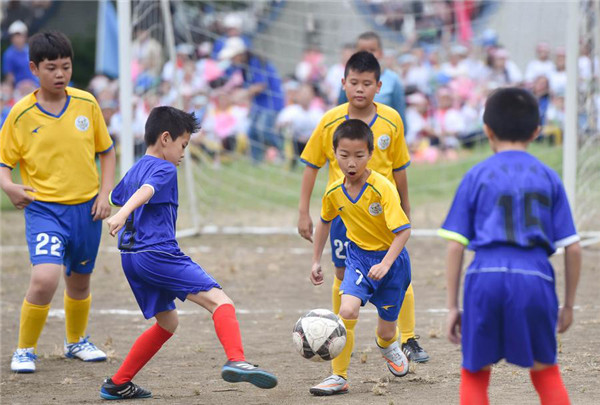 Pupils play football in the 1st School Football Culture Festival of Xiangban Primary School in Fuzhou, the capital of Southeast China's Fujian province, on May 20, 2016. [Photo/Xinhua]
Four Chinese investor groups are locked in a more than $140 million bidding war for one of the world's most powerful soccer agencies, UK-based Stellar Group, a source said, a sign that China's appetite for sport is outgrowing trophy club investments.
According to documents reviewed by Reuters and a source with direct knowledge of the talks, the Chinese bidders include model car maker Rastar Group, which last year bought a majority stake in Spanish soccer club Espanyol.
The potential investment would be music to the ears of soccer fan President Xi Jinping, who has an ambition to host and one day win the World Cup. He set out a plan 18 months ago to create a sport industry worth $850 billion by 2025.
"This is just the start of China's global sporting and football ambitions and we should expect more of the same over the next five years," said Simon Chadwick, professor of Sports Enterprise at Salford University, Manchester.
Ultimately, Chinese sports businesses will emerge that own assets across and throughout the global sport industry, Chadwick said.
If a deal is done, Stellar Group, founded by British agent Jonathan Barnett, would be a major addition to China's fast-expanding roster of global football assets, which includes stakes in England's Manchester City, Spain's Atletico Madrid and a growing domestic league.
Earlier this week, Chinese entrepreneur Xia Jiantong bought struggling English club Aston Villa.
Barnett is one of football's so-called "super" agents, who broker multi-million dollar deals to trade players between clubs. Stellar Group was behind Wales international Gareth Bale's record-breaking 86 million pound ($125 million) move to Real Madrid in 2013.
A deal would give the Chinese buyer access to some of the most connected football agents, and a list of high-profile players at a time when China is ploughing money into grassroots academies, television rights and transfer deals for overseas stars.
The Chinese Super League, still way behind European leagues in terms of quality and prestige, spent around 340 million euro ($382 million) in the latest winter transfer window, more even than the cash-flush English market.
Stellar Group could cost around 900 million yuan ($138 million) said the source, adding prices had only been verbally discussed. The person said Barnett was planning to travel to China at the end of the month to meet the suitors.
Reuters was not able to independently confirm the valuation.
The person, who asked not to be named because the negotiations had not been made public, declined to disclose the names of the other three investor groups.
Reuters could not immediately reach Rastar for comment. Barnett did not respond to emailed requests for comment.
Stellar Group represents hundreds of athletes, including footballers Bale and current England internationals Joe Hart, Luke Shaw, Phil Jagielka and Danny Drinkwater, according to transfermarkt.com.