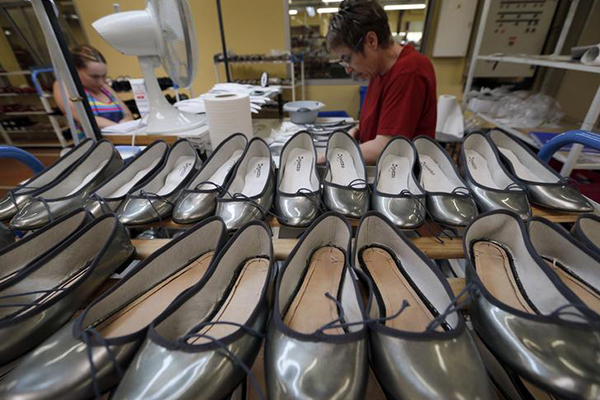 An employee works on ballerina Cendrillon shoes at the production workshop in the Repetto factory in Saint-Medard d'Excideuil, southwestern France. [Photo/Agencies]
The expansion of ballet studios in China is encouraging French ballet clothes manufacturers to introduce their premium designs to a booming market with the help of local distributors.
Former professional ballet dancer Christophe Ridet recalls that his ballet wear company Wear Moi first started with the purchase of a sewing machine in Hong Kong in 1991, while he was on tour there with his wife.
When the French dancer retired a year later he decided to put the sewing machine to good use, to create customized ballet and musical-related clothes for his wife and other professional dancers.
Nowadays, Wear Moi is present in more than 50 countries, having entered the Chinese mainland market in April 2014 with the help of local distributor Weimo Ballet.
The French brand, which is expanding fast in China through an online store, is seeing that leotards remain the most popular product in their mainland customer's shopping baskets.
Additionally, the company notes that its light grey ballet clothes are a hot-selling item in the country as Asian women believe that it enhances their hair and skin tone.
This year, the company forecasts a healthy 30-40 percent increase in revenues.
"The increase in sales is not just a reflection of more people practicing ballet, it also shows that more ballet dancers are spending a higher amount of money on premium clothes," explained Christophe Ridet, founder of Wear Moi. "It is still a very promising market".
For Wear Moi, the adoption of ballet as an alternative workout and the fact that an increasing numbers of ballet studios in China are opting to use imported brands for their uniforms, are helping to drive sales up.
Emma Wang, director of the Beijing-based Morning Star Ballet studio, notes that the market for ballet clothes has changed dramatically in the last few years thanks to the addition of new foreign brands.
"When I was a professional dancer 20 years ago, it was really hard to find ballet wear in China," she said.
"Our school or the ballet company had to provide the clothes for us. We could only buy our own clothes if we traveled abroad. Now professional and amateur dancers have plenty of options to choose from," Wang added.
French prêt-a-porter company Repetto entered the Chinese market in November 2014 with the inauguration of its first shop in Shanghai helped by Swire Resources, its exclusive distributor in the country.
Repetto now has six stores in China, is distributed in Shanghai, Beijing and Chengdu and has signed partnership agreements with ballet schools in these cities to promote its brand.
Looking ahead, the company plans to expand the number of stores to meet the growing demand for ballet clothing in the country.
"The first Repetto outlet store opened in Shanghai Village near Disneyland", noted Clara Chan, a representative of Swire Resources. "We are actively investigating good and suitable locations for potential new Repetto stores."
Although Repetto sells a wide a range of products in China, including dance wear and conventional city bags and shoes, the French brand's timeless Cendrillon ballerina pointe shoes remain its most popular item in stores in the mainland.
Additionally Repetto notes that other ballet clothes, such as mousseline skirts and leg-warmers, are also popular among adult women in China.
"We do see the potential demand for affordable luxury products and ballet products", explained Chan. "Consumers know more international brands and are also seeking more unique and personalized shopping experiences."
This year revenues generated by Repetto's dance products, including ballet wear and pointe shoes, have been growing at more than 60 percent in China compared to last year.
And the company is optimistic about the future, as more women in China are learning ballet for either artistic reasons or to lose weight and correct posture.