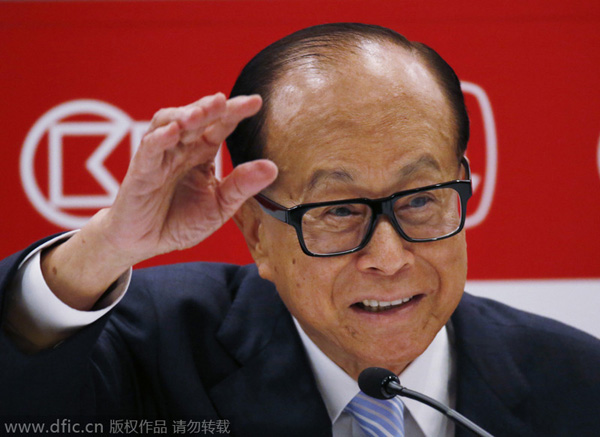 Hong Kong tycoon Li Ka-shing speaks during a press conference to announce his companies' annual results in Hong Kong, Feb 28, 2014. [Photo/IC]
Hong Kong tycoon plans reorganization of global interests as son prepares to lead
Li Ka-shing's two main companies reported their highest annual profits in 15 years after booking gains from the listing of an electric utility unit and rising home sales in Hong Kong.
At Cheung Kong Holdings Ltd, which operates the bulk of Li's property business, net income climbed 53 percent last year to HK$53.9 billion ($7 billion), the company said on Thursday in a statement. Hutchison Whampoa Ltd, which operates industries ranging from telecommunications to infrastructure, reported profit more than doubled to HK$67.2 billion.
The results represent the final earnings before Li merges the two companies by late June as part of a $29 billion reorganization of a business empire spanning more than 50 countries. The 86-year-old tycoon is not done making deals, as Hutchison is in talks to buy British wireless carrier O2 Plc for as much as 10.25 billion pounds ($16 billion) and is discussing adding phone assets in Italy.
"With this new structure, they are going to be more aggressive in pursuing assets in Europe, particularly in the telecom sector," Jackson Wong, associate director at United Simsen Securities in Hong Kong, said ahead of the earnings release.
The reorganization, codenamed "Project Diamond" before being announced in January, comes as Li prepares to hand over the reins to his 50-year-old son Victor. The octogenarian, who has long evaded answering questions about his retirement, on Thursday gave a rare acknowledgment of what he will do when he eventually steps down.
"If I really retire, the company won't have any problems," the elder Li said at a news conference in Hong Kong. "I can be a special adviser or shareholder, and they can talk with me once in a month or two without any problems."
Victor Li responded by joking he may then offer his father a salary of HK$5,000 a year for his services.
For now, the Li family is focusing on reorganization. The proposal would lump all of Li's businesses into a new company called CK Hutchison Holdings Ltd and then separate the real estate assets into a new entity called Cheung Kong Property Holdings Ltd., which would be the second-largest landlord in Hong Kong.
The proposal still needs approval from Hutchison shareholders.
Cheung Kong shares rose 0.7 percent to close at HK$153 in Hong Kong on Thursday ahead of the earnings report, while Hutchison dropped 0.1 percent to HK$105.50. The Hang Seng Index advanced 0.5 percent.
At Cheung Kong, which owns 52 percent of Hutchison, profit excluding property revaluations rose 46 percent to HK$48.9 billion as Hong Kong home prices rose 13 percent to a record last year despite government steps to cool the market.
After Li's real estate assets are spun off into CK Property, investment properties that generate lower returns could be sold off, said JPMorgan Chase & Co analysts Cusson Leung and Leo Ng.