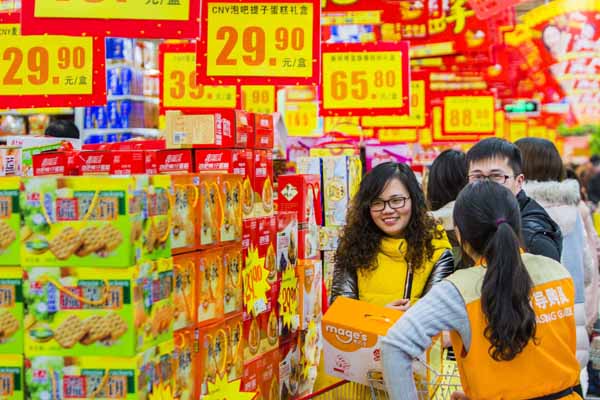 A supermarket in Lianyungang, Jiangsu province. Experts say the ongoing steady increase in personal income will continue to boost domestic consumption. [Photo provided to China Daily]
Domestic consumption surpassed investment to become the strongest driving force of the Chinese economy in 2014, indicating a new growth model has already started forming as the country enters a "new normal" development era, the National Bureau of Statistics said on Thursday.
Total consumption accounted for 51.2 percent of gross domestic product growth last year, compared with 48.6 percent from investment. Net exports accounted for just 0.2 percent of the GDP growth, said the NBS report.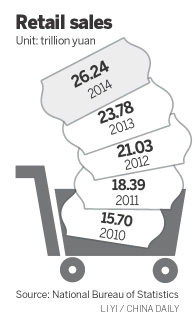 Xie Hongguang, the NBS deputy director, said: "It means that the consumption-driven growth model has started taking shape, and the economic structure has started improving."
According to the official data, in 2013 final consumption contributed half of the nation's GDP growth and 54.4 percent was from investment, while net exports dragged down GDP by 4.4 percent.
The NBS report also said that per capita GDP increased to around $7,400 in 2014, up from $6,900 in 2013. The country's leadership has said it is confident of doubling the 2010 per capita GDP of $4,300 by 2020.
Per capita disposable income was 20,167 yuan ($3,200) last year, up by 10.1 percent on 2013.
Economists said that an ongoing steady increase in personal income will support further growth in consumption in the near term, as investment and exports show weaker growth momentum, dragged down by domestic industrial overcapacity, property oversupply and sluggish outboard demand.
"With property and heavy industry investment set to decelerate, but consumption holding firm for the next two years, China's modest rebalancing toward consumption in recent years should remain on track," according to a research note from UBS AG, the Swiss global financial services company.
"Though Chinese consumption is set to decelerate from the previous decade's pace, its share of GDP could yet rise by another 3 to 4 percentage points by the end of 2020," it said.