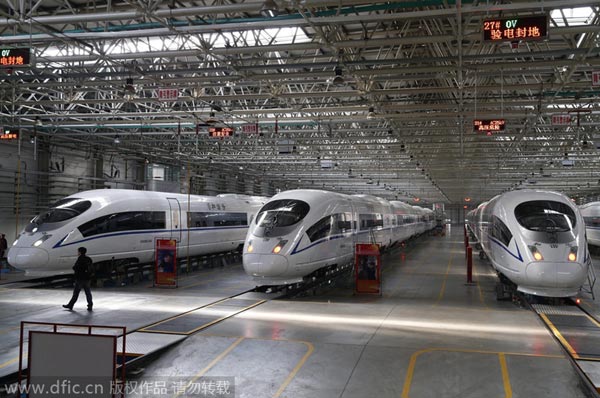 High-speed trains are docked at a commissioning and testing facility of the Tangshan Railway Vehicle Co Ltd which is a subsidiary of the China Northern Locomotive and Rolling Stock Industry Corporation, in Tangshan city of Hebei province, China, Feb 11 2015. [Photo/IC]
BEIJING -- China will maintain the scale and intensity of major transportation infrastructure construction in 2015 to buoy growth.
The National Development and Reform Commission (NDRC) said that more railway lines, particularly in the central and western regions, will be put into operation this year, which will stabilize economic growth and improve people's livelihoods.
The NDRC will continue to encourage social capital through preferential measures to attract investment in major transportation infrastructure in 2015.
In 2014, the NDRC approved 34 billion yuan ($5.56 billion) for transportation infrastructure, which included railways, roads, airports and waterways.
China had more than 110,000 kilometers of railways by the end of 2014, 15,800 kilometers were high speed rail (HSR), making it the HSR world leader.
Institutions like the Asian Infrastructure Investment Bank (AIIB) display China's efforts to boost global infrastructure investment.
The AIIB is an opportunity to show to the world that "China has done a great deal of putting real hard money on the table," Bessma Momani, senior fellow of the Center for International Governance Innovation in Canada, told a press conference on the sidelines of the G20 Summit.
Bessma said that the 20-member grouping should concentrate on increasing competition, combating tax avoidance, boosting trade and spurring employment to achieve the goal of lifting G20's collective GDP by 2 percent by 2018.
Among these measures, "one of the things that is most durable and easiest to implement is infrastructure investment," she said, adding that given the current global political landscape, "the challenge is to figure out who is going to take on this big infrastructure spending."
Bessma said she remained pessimistic that these bilateral separate banks would be warmly greeted by many of the Western countries thinking of the Asian Monetary Fund and more recently the BRICS Development Bank.
"All these tend to be resisted by many countries in the West."
Last month, a total of 21 Asian countries inked a memorandum of understanding on the establishment of the AIIB with an expected initial subscribed capital of $50 billion.