From the drone in the sky to the smart wearable on your wrist, consumer electronics have taken over our lives and exist everywhere.
Here are the world's top 10 most innovative consumer electronics companies according to a report by fastcompany.com.
No. 10 Motorola Mobility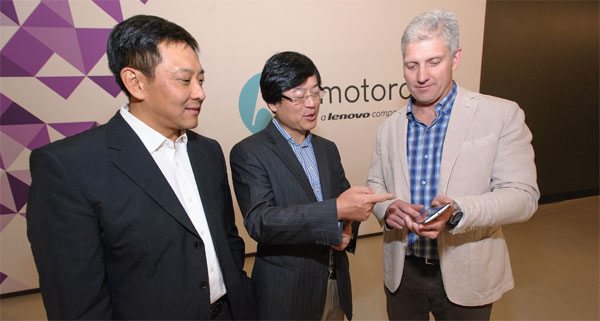 Liu Jun, left, Lenovo Group executive vice-president; Yang Yuanqing, Lenovo chairman and CEO and Rick Osterloh, president and COO of Motorola Mobility, in Mountain View, California. [Photo Provided to China Daily]
Motorola returned to China on Jan 26, following a two-year absence with its flag-ship Moto X now available from e-commerce platform JD.com. Motorola left the Chinese market in 2013 after its acquisition by Google Inc. The world's largest computer producer Lenovo Group bought Motorola Mobility for $2.9 billion last year to support its efforts to become a global wireless device player.
According to Fast Company, being sold by Google to Lenovo last year doesn't seem to have dampened Moto's spirits, and as a result it's putting out some of the most inventive mobile hardware today.