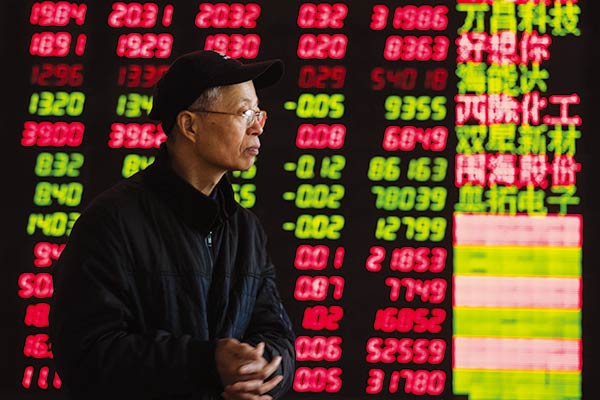 Stock information is displayed at a trading hall of a securities firm in Shanghai. [Photo / AFP] 
BEIJING -- Chinese brokerage firms saw surging profits in 2014 boosted by easing measures from policymakers, the Securities Association of China (SAC) said.

Combined net profits of 120 brokerage firms totaled 96.55 billion yuan ($15.78 billion) in 2014, surging 119.34 percent from 2013, according to SAC.

The aggregate revenues of these brokerages hit 260.28 billion yuan last year, up 63.45 percent compared with 2013.

The sector's strong performance was attributed to bullish Chinese shares in the last quarter of 2014, thanks to the recovering economic climate and easing measures from the central government.

China's A shares raised 724.9 billion yuan in 2014, with 47.1 billion yuan raised through the initial public offerings (IPO) of 94 enterprises, and 677.8 billion yuan from refunding by 609 listed companies, the China Securities Regulatory Commission (CSRC) revealed.
The CSRC said it continued reforms on phasing out the current approval-based method for IPOs and implementing a registration-based system.
The commission has been lowering the access threshold and improving the funding system of the ChiNext Board, China's Nasdaq-style board which mainly lists hi-tech companies and those with high growth potentials.
Meanwhile, better policies and regulations for acquisition of listed companies were promoted last year, said the CSRC.
The nation's capital market regulator has launched a new round of inspections into the margin trading business of securities firms in January in a bid to contain risks in leveraged stock speculation.
The rapid expansion of brokerages' margin trading businesses has been considered a main driver of the bull run of the Chinese stock market with the Shanghai Index surging more than 60 percent in the past six months.
Tightened regulations reflect the regulator's fear that risks in the Chinese stock market are building up and could even spill over to the country's banking system as securities firms have borrowed capital from other financial institutions to engage in margin lending.
The inspection were carried out on 46 brokerages after the regulator punished and warned a slew of securities firms for violating margin trading rules in the initial round of investigation.
Margin trading allows investors to borrow money from their brokers to purchase stocks. The trading leverage amplifies the buying power but it could also result in heavy losses as investors might lose more than they originally invest.
Some market observers said the probe might curb liquidity in the Chinese stock market, which is already under correction pressure.