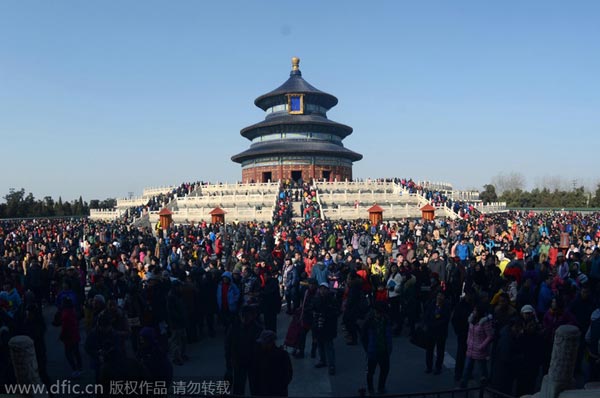 Tourists are seen at Tiantai park during Spring Festival, Feb 23, 2015. [Photo/IC] 
More than 5 million Chinese expected to have traveled overseas for shopping in the past week
Spring Festival appears to be no longer a time solely for family reunions in China.
More wealthy Chinese are traveling abroad, with shopping one of their most important missions during the weeklong holiday.
From Japanese electronic toilet seats to Swiss luxury watches, Chinese tourists have been globe-trotting in pursuit of purchases in department stores and luxury shops.
The number of Chinese traveling abroad is expected to have exceeded 5 million during the holiday, driven by a stronger yuan, favorable visa policies, increased wealth and demand for quality leisure time.
Spring Festival this year also marked the first time that outbound tourists had outnumbered those traveling at home, with 60 percent of Chinese tourists spending the holiday in foreign destinations, according to the China Tourism Academy.
Overseas retailers, department stores, electronics shops and luxury boutiques have been cashing in.
In Japan, stores selling electronic goods have been packed with Chinese shoppers. Small but high-end products such as rice cookers, toilet seats and digital cameras have sold out, according to a Japanese media report.
Some Japanese media estimated that about 450,000 Chinese tourists will have traveled to Japan during the holiday, spending $941 million.
The China National Tourism Administration has predicted that the number of Chinese heading abroad during the holiday break will reach 5.19 million, a 10 percent year-on-year increase.
The academy said revenue for the Chinese tourism industry during the holiday will be more than 140 billion yuan ($22 billion).
In Paris, 80 percent of Chinese tourists' spending was devoted to shopping, according to a report by HSBC.